Plant mat Geranium cantabrigiense 'Cambridge'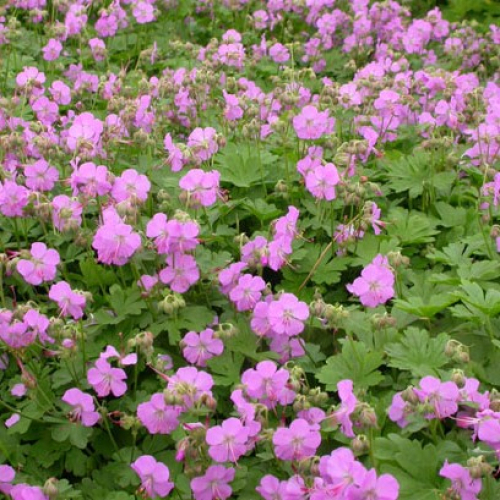 This plant mat consists of a coir mat planted with Geranium cantabrigiense 'Cambridge'. This ground cover plant flowers lavishly and tolerates full sun. On delivery, the plant mat has at least 85% cover. This guarantees a green result immediately.

About the plants
The cranesbill, Geranium cantabrigiense 'Cambridge' is a strong and richly flowering ground cover plant that is ideally suited for use in gardens, but it also flourishes in public parks. From the beginning of June until well into August, the lilac-colored flowers ensure an uninterrupted and intense bloom. Cranesbill remains mostly evergreen in winter. In the autumn, part of the leaves turn red.
Why plant mats?
The pre-cultivated Sempergreen plant mat is applicable everywhere where a mature green appearance is required immediately after planting, on embankments, slopes, roundabouts, in cemeteries and parks.
Installation and maintenance
It is very easy to lay a Sempergreen plant mat. The maximum gradient for the plant mat is 45 degrees. The minimum maintenance will depend on the system structure.