Living wall for consumers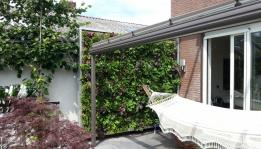 With a living wall you create an green oasis in your building, your garden or in your home or office. Thanks to the vertical application you don't need much space to be able to benefit from all the advantages of greenery. A maintenance contract guarantees a lush green facade, throughout the year.
What is a living wall?
A living wall is a sustainable green wall covering either on the exterior or interior of your building. The Sempergreen green facade system is assembled from Flexipanels and an irrigation system, and is finished with a gutter and frame. The flexible panels are pre-cultivated in our nursery and on delivery they boast at least 90% coverage. With a Sempergreen living wall you enjoy all the sustainable benefits of greenery immediately after installation.

A permanent green appeal
It is very important to maintain a living wall properly so that it retains its green appearance. To make life easier for you Sempergreen offers various maintenance contracts, tailored to your specific living wall. Let us inform you about the various maintenance packages. So you can always enjoy all the benefits of your green wall.