Living wall for government organizations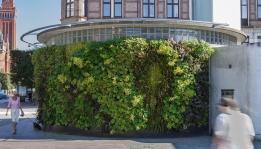 When realising developments in the public space, the existing greenery may be damaged. Living walls are an ideal means for green compensation, because they are placed vertically and thus require very little space. Furthermore, green facades offer many benefits for social cohesion, the feeling of safety in the neighbourhood and for citizens' health.
Climate change and urbanisation require smart solutions
Climate change calls for a smart and efficient design of the ever expanding urban area. Flooding due to peak rainfall means considerable cost to society. Greenery is one of the most important solutions for extreme temperatures or heavy rainfall. What's more, people are happier in a green environment. Vertical gardens or living walls only require a small footprint to provide considerable benefits.

What is the structure of a green facade system?
The structure of a living wall will depend on the specifications of the wall structure behind, the climate and the orientation of the wall. Read more about the most commonly used systems for green facades below.

A permanent green appeal
It is very important to maintain a living wall properly so that it retains its green appearance. To make life easier for you Sempergreen offers various maintenance contracts, tailored to your specific living wall. Let us inform you about the various maintenance packages. So you can always enjoy all the benefits of your green wall.