Flexipanel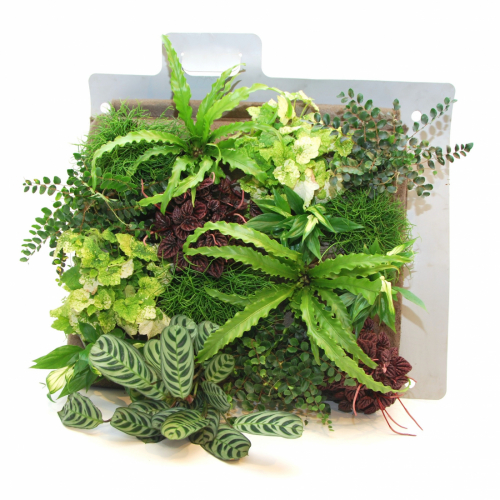 The Sempergreen Flexipanel is a building block of the SemperGreenwall. The Flexipanel is the most flexible system on the market for living walls. The panels are pre-cultivated in our own nursery and can easily be mounted in any interior or exterior wall or facade, to provide an instant green appearance. Thanks to the use of lightweight materials, in combination with a special design, even curved surfaces are not a problem.
In stock in our own nursery
The Flexipanels measure 24.4" x 20.5" (width x height) and are carefully grown in our own nursery. On delivery, the panels boast at least 90% coverage. Flexipanels with a standard range for interior or exterior use are often available from stock. Please order early, in case there is extra lead time. If you have special requirements for the plants, you are at the right address with Sempergreen.
Plants adjusted to the facade
The Flexipanels are planted with a range of plant varieties, selected for the climate and the specific situation of your facade. Sempergreen has thoroughly tested its assortment of plants, because every situation is unique and climatic circumstances differ. So you know for certain that your green wall will really stay green, whether it is in the sun or shade, interior or exterior; our worldwide reference projects show that the Sempergreen Flexipanel literally grows everywhere.
Fire safety
Sempergreen is the only supplier of a green facade system that has been tested and certified for fire safety in the highest European fire safety class, B - s2, d0. This means that the Flexipanels may also be used in escape routes.
Always green
Each Flexipanel has a channel at the top for a drip hose which is used for delivering water and nutrients to the plants. A web-based irrigation system in combination with a maintenance contract ensures you always have a green appeal.