SemperGreenwall Indoor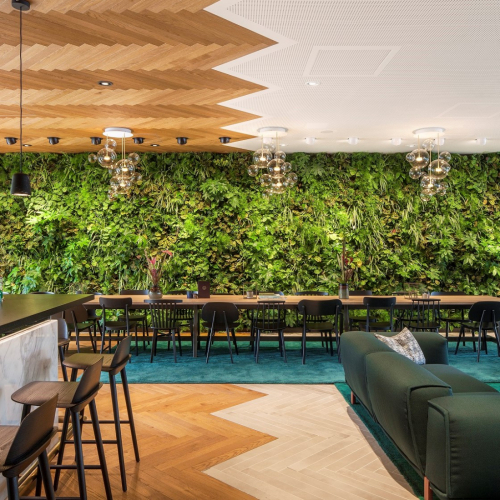 A living wall in your office or home offers numerous benefits for people and the environment. The air purifying effect of the vertical plant wall contributes to a healthy indoor climate, purifies the air and reduces noise pollution in crowded places, such as offices and shopping centers. A green facade is much more than just a beautiful eye-catcher. Vertical gardens in indoor spaces have scientifically proven effect on the increase of well-being and labor productivity.
Green wall in your interior
A SemperGreenwall Indoor is a green facade system for indoor applications. The living wall is made up of modular Flexipanels and is equipped with an irrigation system, gutter and a frame. Our green wall is ideal for all kinds of interior spaces. For example, the SemperGreenwall Indoor is very popular in offices, museums, restaurants, shopping centers and showrooms. They are flexible in use and can be installed on both straight and curved walls.
Plant assortment indoor green facade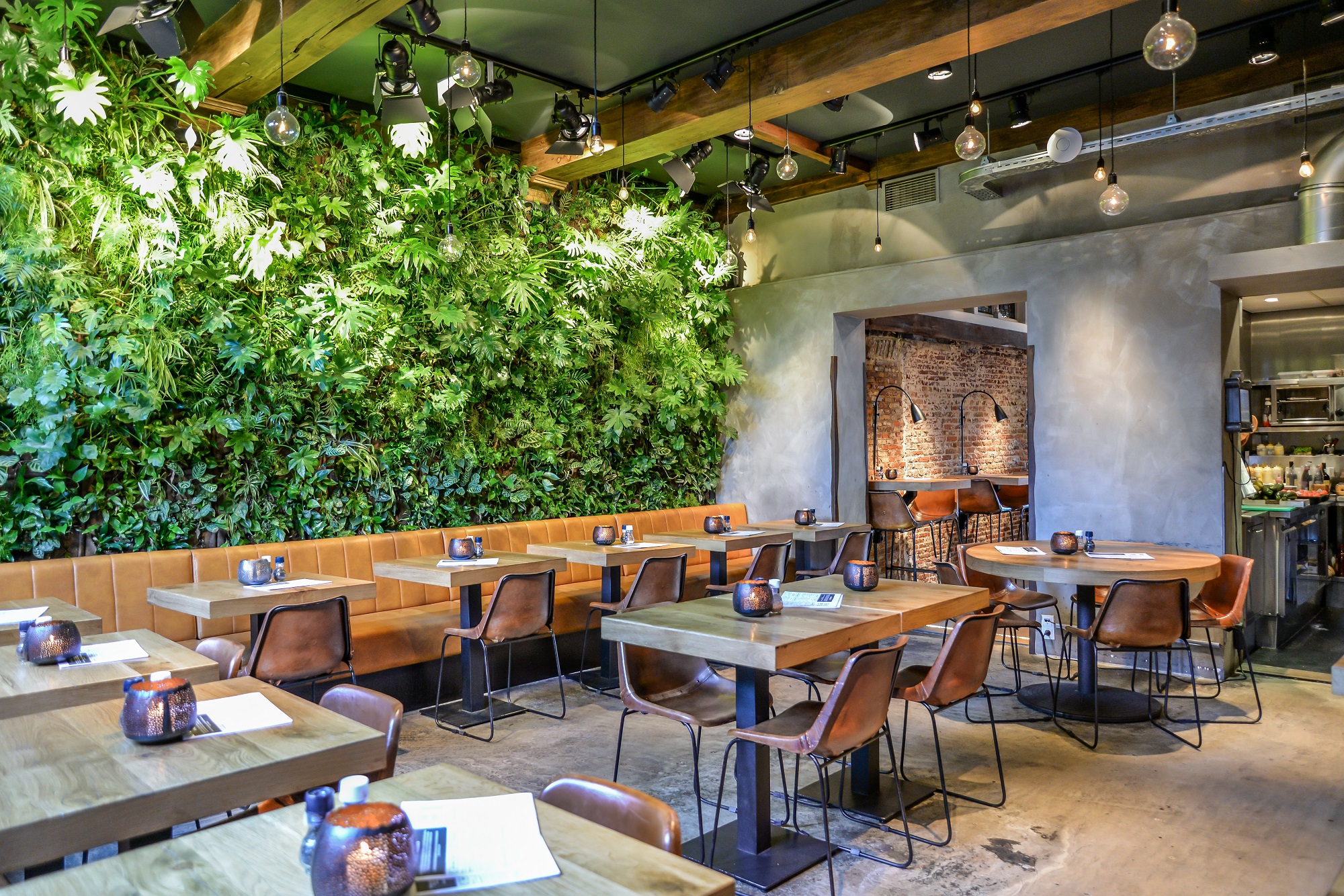 The SemperGreenwall Indoor for greening your indoor space is pre-cultivated in our own nursery with a carefully selected plant mix of indoor plants and ferns. Every project and each indoor space is different - that is why Sempergreen has thoroughly tested its plant assortment and selected only the strongest plant species for the SemperGreenwall Indoor. At delivery, your green wall is at least 90% covered so that you can immediately benefit from a long-lasting green result.
3 advantages of a SemperGreenwall as vertical garden
1. Planting as desired
The SemperGreenwall Indoor is planted with a carefully composed mix of indoor plants and ferns. Do you prefer a particular type of plant or color or do you want to integrate your logo or lettering into your green facade? No problem! Even a personal planting design is possible in the planting scheme of your SemperGreenwall Indoor.
2. Installation and maintenance by professionals
Sempergreen is your specialist for greening your interior space. We take care of the whole process for you: from planting to assembly to maintenance. Thanks to our ingenious and unique Plant Care System, including a fully automatic irrigation system, the maintenance of your inner green wall is minimal. For the care of your plants in the SemperGreenwall Indoor we offer you a maintenance contract with one of our local partners. So you do not have to worry about maintenance, such as pruning plants.
3. Optimal solution for every application
The living wall system SemperGreenwall Indoor is used for long-term greening of your interior space. Whether it concerns elongated or high wall surfaces, or corner elements - a SemperGreenwall is ideal for any type of wall. Green facades can not only be applied in rooms with a lot of natural light. Thanks to the selected plant mixes, a SemperGreenwall can also be installed in rooms with few to no windows.
Are you looking for a free-standing, movable indoor plant wall? Then choose the new Sempergreen LifeMCC. This compact green wall is movable and includes an integrated irrigation system.
Want to know more?
Are you looking for a green facade for your office, museum or showroom, which is green all year round and easy to care for at the same time very? Then a SemperGreenwall Indoor is the right choice. Contact us for a tailor-made offer for the greening of your indoor facade. We look forward to your request.
Request SemperGreenwall Indoor offer
SemperGreenwall Partners in the USA & Canada: