SemperGreenwall Outdoor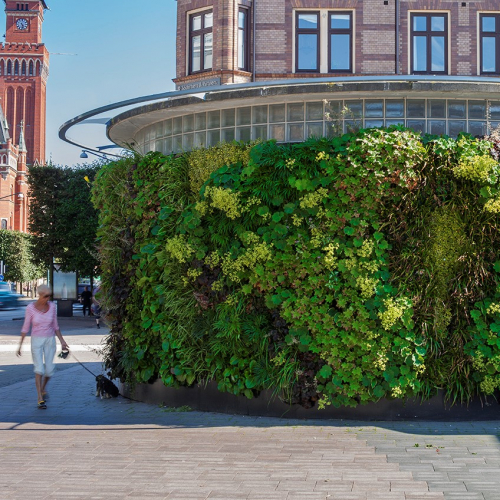 A SemperGreenwall Outdoor is a green living wall system for outdoor applications. Vertical gardens or green facades are ideal for the greening of urban areas and have a positive effect on the environment. The plants absorb CO2 and particulate matter and provide a cooling effect and cleaner air. With a SemperGreenwall Outdoor, a gray surface can be transformed in a space-saving way into a long term green oasis.
Green facades for external walls
A SemperGreenwall Outdoor is constructed from modular Flexipanels and is finished with a gutter and a frame. Our green facade for external walls is ideal for building facades in urban areas and can be applied on both straight and curved walls. Each SemperGreenwall Outdoor is grown in our own nursery with a carefully selected outdoor plant mix. On delivery, your vertical garden has a plant coverage of at least 90%, so that you can benefit from an immediate green result all year round.
Plant assortment green wall outdoor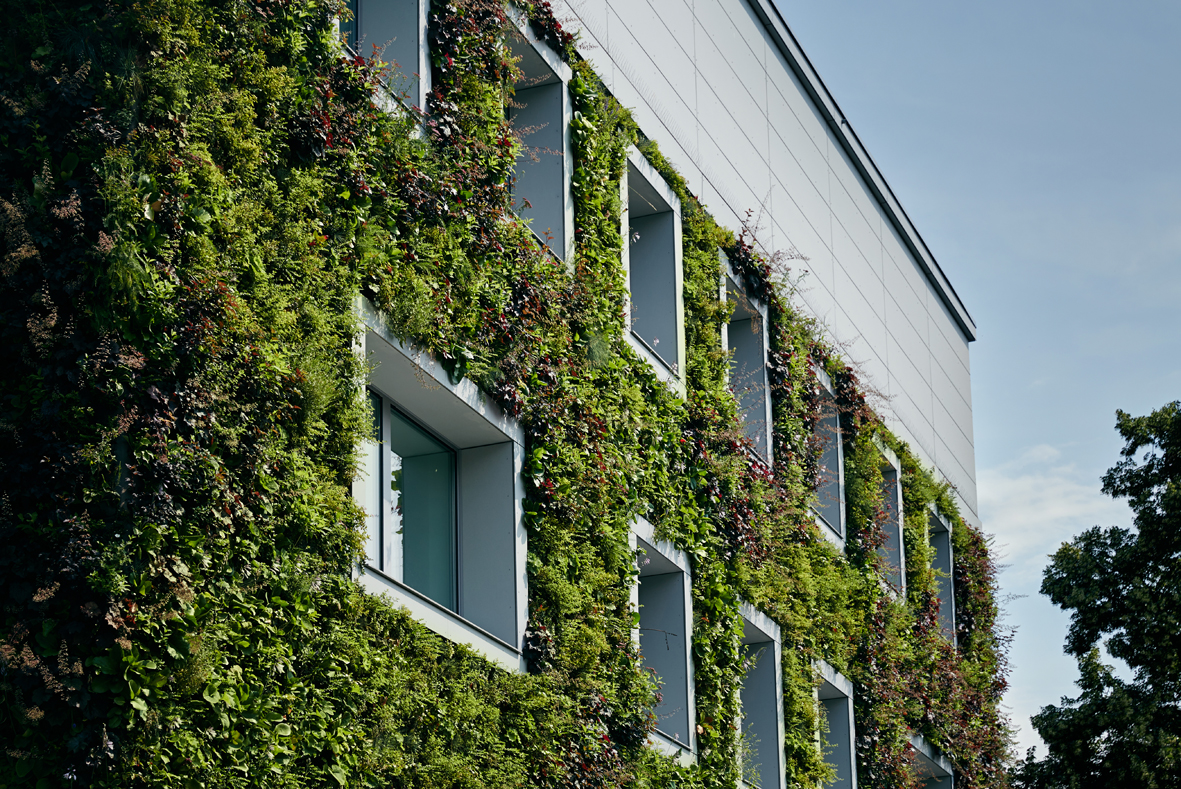 The SemperGreenwall Outdoor is suitable for greening all possible exterior facades and remains beautifully green throughout the year. The plant assortment consists of a carefully composed mix of shrubs, perennials and ferns. Each project is unique and every climate is different - that is why Sempergreen has extensively tested its plant assortment and selected only the strongest plant species for the SemperGreenwall Outdoor. So you can be sure that your living wall fits your project perfectly and stays green throughout the year, both in summer and in winter.
3 benefits of a SemperGreenwall as vertical garden
1. Planting as desired
Sempergreen offers a wide range of plant mixes, from which you can choose for your SemperGreenwall Outdoor. Do you want to green your wall in combination with advertising purposes? No problem! Logos, patterns and lettering can also be processed in the planting schemes of our living wall system.
2. Green throughout the year
Our automatic irrigation system ensures that your outdoor green wall is supplied with the right amount of water and nutrients. In combination with a maintenance contract (with one of our local partners) Sempergreen guarantees a green appearance of your vertical garden at any time of the year - in every season. If desired, the integrated irrigation system of the SemperGreenwall Outdoor can be extended with frost protection.
3. Installation and maintenance by professionals
Sempergreen is your specialist for greening your outdoor space. We take care of the whole process for you: from planting to assembly to maintenance. Thanks to our ingenious and unique Plant Care System, including a fully automatic irrigation system, the maintenance of your outer wall is minimal. For the care of your plants in the SemperGreenwall Outdoor we offer you a maintenance contract with one of our local partners. So you do not have to worry about maintenance, such as pruning plants.
Want to know more?
Are you looking for a green facade on your outer wall, for example for your office complex or commercial building, which is green all year round and easy to maintain at the same time? Then a SemperGreenwall Outdoor is the right choice. Contact us for a tailor-made offer for the greening of your facade. We look forward to your request.
Request SemperGreenwall Outdoor offer
SemperGreenwall Partners in the USA & Canada: