Living wall for architects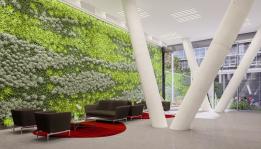 Architects are increasingly using green facades. This means that a building varies with the seasons and blends in well with the surroundings. Plants and patterns can be selected specifically for each project, so that each green facade, and thus each building, is unique. Moreover, living walls offer many benefits for employee job satisfaction, air quality, noise nuisance and the feeling of safety in the city.
Climate change and urbanisation require smart solutions
Climate change calls for a smart and efficient design of the ever expanding urban area. Greenery is one of the most important solutions for extreme temperatures or heavy rainfall. What's more, people are happier in a green environment. Vertical gardens or living walls only require a small footprint to provide considerable benefits.

What is the structure of a green facade system?
The structure of a living wall will depend on the specifications of the wall structure behind, the climate and the orientation of the wall. Read more about the most commonly used systems for green facades below.

Is a living wall eligible for LEED or BREEAM credits?
We are often asked whether a living wall contributes to the score for LEED or BREEAM. A vertical garden certainly counts, for both new construction and existing buildings, but always in combination with a set of other measures.