Living wall for contractors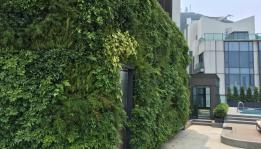 Does your construction project require a green facade? Then as contractor, with Sempergreen you are at the right address. A SemperGreenwall can be installed outside or inside a building. Sempergreen offers a complete package: from creation to management and maintenance. You can be assured that right from day one, your living wall will have a permanent green appeal. Each project is unique, so we offer advice tailored to your project and we supervise the project from A to Z.
What is a living wall?
A living wall is a green wall covering either on the exterior or interior of your building. The Sempergreen green facade system is assembled from Flexipanels and an irrigation system, and is finished with a gutter and frame. The flexible panels are pre-cultivated in our nursery and on delivery they boast at least 90% coverage. In addition to the standard plant varieties, in consultation with Sempergreen you can also make your own selection of plants. Nothing is impossible, logos and patterns in the planting are also options for a SemperGreenwall.
What is the structure of a green facade system?
The structure of a living wall will depend on the specifications of the wall structure behind, the climate and the orientation of the wall. Read more about the most commonly used systems for green facades below.


Also suitable for escape routes
The basis of a SemperGreenwall, the Flexipanel, is the only product in the market that has been tested for fire safety at the highest European class; fire class B - s2, d0. Thanks to this certification, a SemperGreenwall is ideally suited for project-based applications, such as schools, hospitals, shopping centres, hotels, restaurants and office buildings. Also application in escape routes is permitted.
What does a living wall cost?
The price of an green facade system will depend on your project specifications. We are more than happy to give advice tailored to your needs and we can send you a quote without obligation.