Living wall for gardeners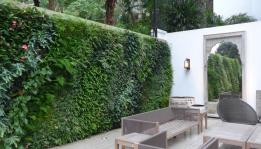 Living walls offer you as gardener new opportunities for your product portfolio. A vertical garden gives a new dimension to any public space or garden. Sempergreen supplies the most flexible system for green facades. What's more, there is a considerable choice of plants. In addition to the standard range of plants, we can also incorporate patterns or logos in a green facade. We are happy to inform you about the opportunities the SemperGreenwall has to offer.
What is the structure of a green facade system?
The structure of a living wall will depend on the specifications of the wall structure behind, the climate and the orientation of the wall. Read more about the most commonly used systems for green facades below.

Who installs SemperGreenwall?
Sempergreen will take care of the entire project for installing the SemperGreenwall. Sempergreen has its own installation team that is specialized in installing green walls in a range of circumstances worldwide, because it is a highly technical product. So you can rest assured that immediately after installation your project is lush and green.
Which plants are included in a living wall?
A SemperGreenwall is planted with a carefully selected mix of plants, chosen for the specific situation and climate of a project. For example, in outdoor green walls, we include shrubs, perennials and ferns. In indoor living walls we use a combination of house plants and ferns. Sempergreen supplies a number of standard assortments which have been extensively tested in various conditions. Naturally, if you would prefer to select plants for your living wall yourself, discuss the options with us. Together we will look for the best solution for your project. Patterns and logos are also among the many options for a SemperGreenwall.
What is included in the maintenance of a living wall?
As gardener you know better than anyone that plants need to be looked after so they maintain their green appeal. Sempergreen offers its clients various maintenance packages, tailored to the specific characteristics of the green facade. Maintenance can be carried out by Sempergreen. Please contact us about the options.