Living wall for landscape architects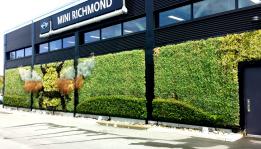 The city is part of nature with a complex interaction between social and natural processes. Living walls play an important role in landscape (re)design in the city. The green experience has a positive effect on the value for a premises, the air quality, sound insulation, biodiversity and the feeling of well-being. Sempergreen offers you as a landscape architect consulting, design and build, project management, and maintenance of green walls. With a Sempergreen green facade system you have the most flexible system on the market. A maintenance contract guarantees a lush green facade, throughout the year.
Green facade as green compensation in the city or in a building
Because of increasing urbanization, the number of locations where greenery can be realized is decreasing. Even in offices, schools and hospitals, the space for greenery is often minimal. A green facade offers the ideal solution. By placing the greenery vertically, very little space is lost but all the benefits of greenery are there.

What is the structure of a green facade system?
The structure of a living wall will depend on the specifications of the wall structure behind, the climate and the orientation of the wall. Read more about the most commonly used systems for green facades below.


Planting with logos and patterns
Sempergreen supplies a number of standard plant assortments for a SemperGreenwall. These plants have been extensively tested in various climates. In addition, your green wall can be planted with the types of plants you want. We are happy to advise you about the possibilities, so that you know that the plants will thrive in the situation and climate of your project. Nothing is impossible. Patterns and logos are also among the many options in our planting schemes.
A permanent green appeal
It is very important to maintain a living wall properly so that it retains its green appearance. To make life easier for you Sempergreen offers various maintenance contracts, tailored to your specific living wall. Let us inform you about the various maintenance packages. So you can always enjoy all the benefits of your green wall.