Warsaw is getting greener, track by track
Pubblicato il mercoledì 14 febbraio, 2018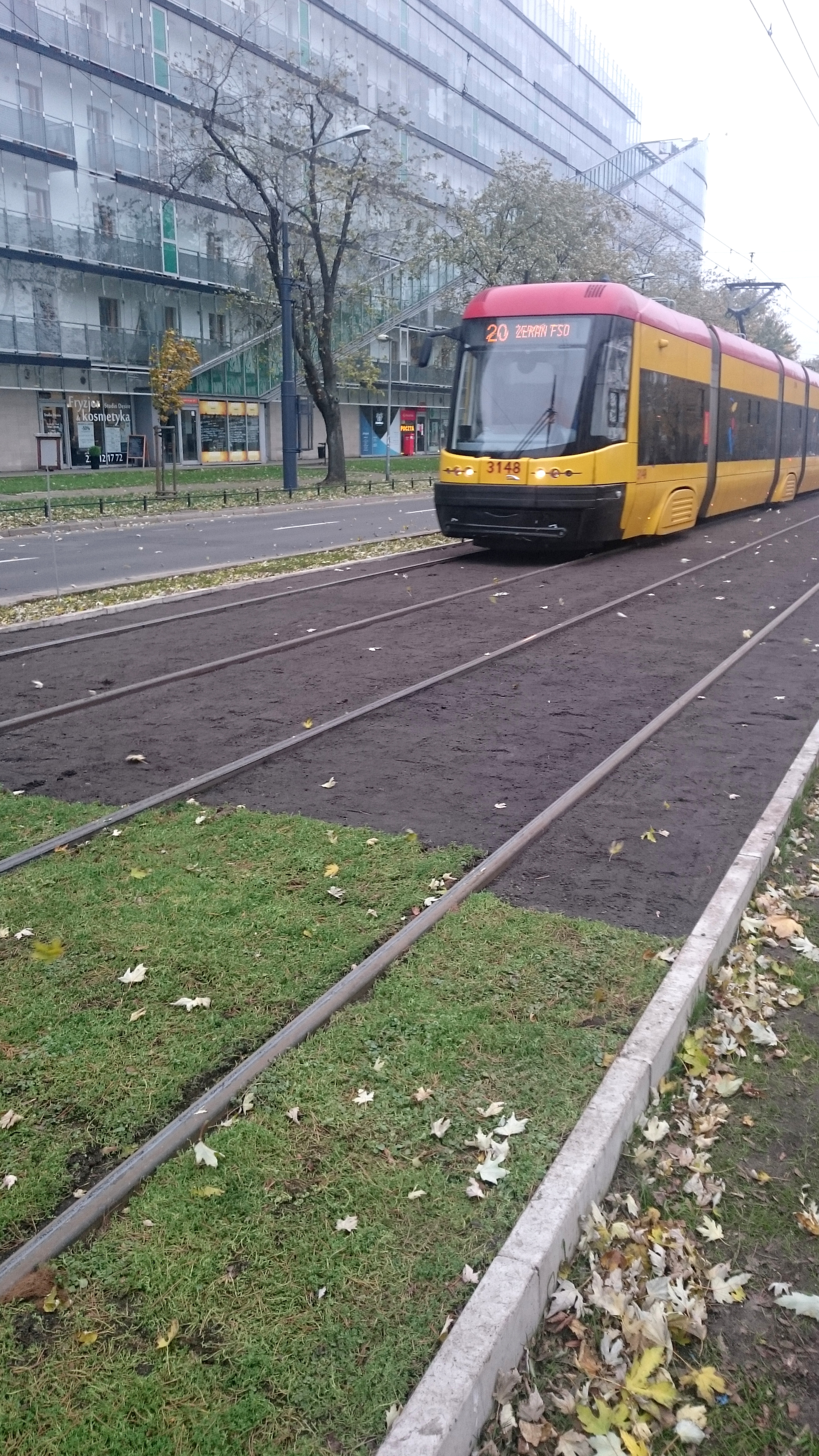 A trip down memory lane: in the 1930's Obozowa Street in Warsaw was the first street in the city where grass was sown into the tramway track. History is repeating itself, when in November 2017 more than 2,000 sqm of Sempergreen Sedum-mix blankets were installed along 350 metres of modernized tramway tracks on Obozowa Street. In collaboration with landscape architect Palmett, Warsaw Trams (Tramwaje Warszawskie) is working on greening the country's capital by gradually turning tramway tracks green.
Testing different ground covers
To make sure that the best solution would be chosen, several different ground covers were tested beforehand. Loose planting, grass and Sedum-mix blankets were placed on the tramway tracks, to see which vegetation would still thrive under different weather conditions. After the testing period, the Sedum blankets were chosen for the project on Obozowa Street. Compared to the other ground covers, Sedum requires little maintenance. The planting only requires periodic fertilization and a twice a year check for weeds that have been blown in by the wind. Upon delivery, Sempergreen Sedum-mix blankets offer a direct-green result. The vegetation blankets contain 8 to 10 different types of Sedum. During summer they bloom in different colours: yellow, white, and pink, offering a great view for travellers.

Text continues below image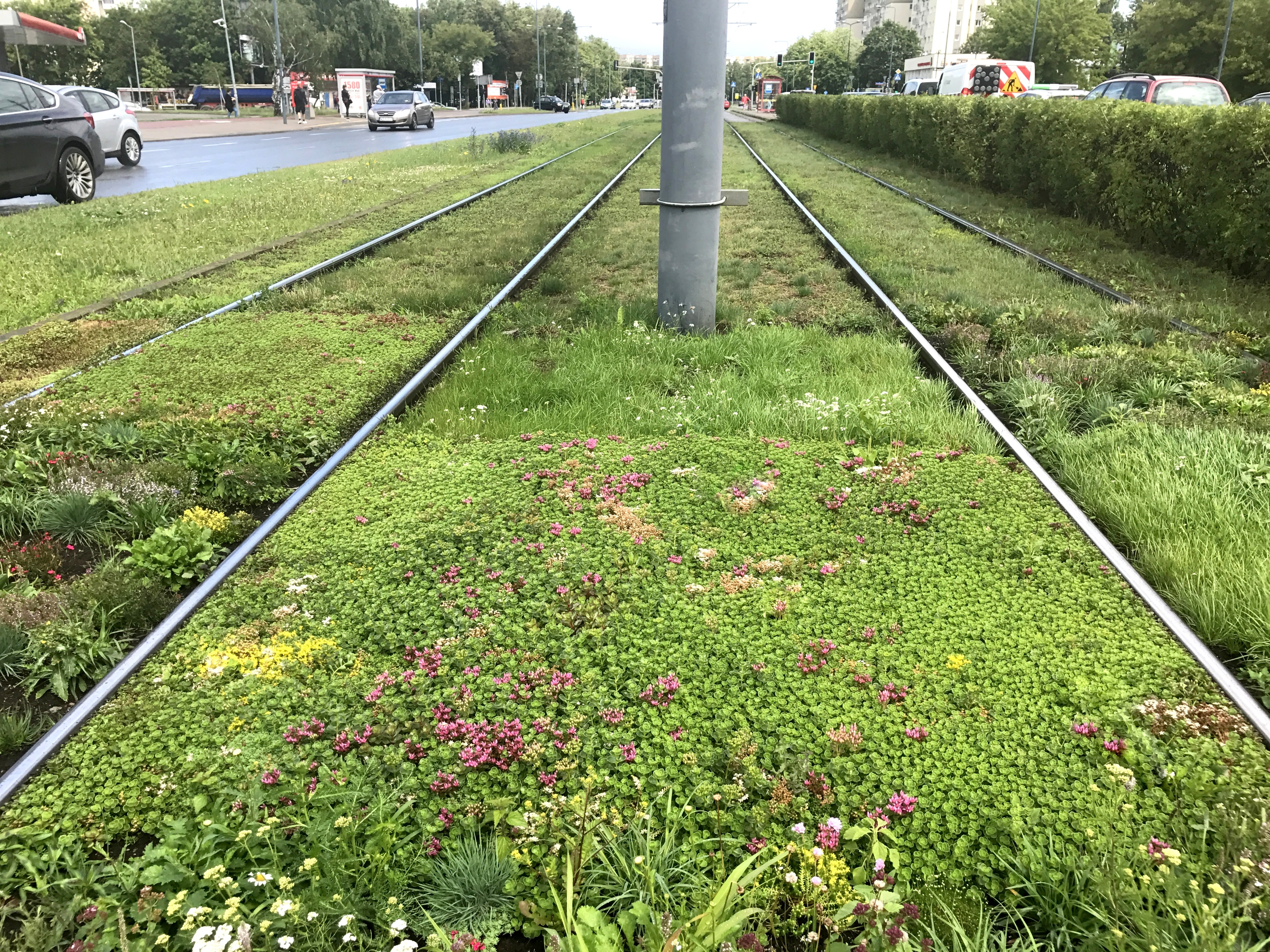 Different ground covers were tested beforehand, including Sedum-mix blankets.
The benefits of Sedum in an urban environment
Greening the tracks offers important advantages for the residents of Warsaw. Plants that are planted between the rails reduce the noise level delivered by trams. Sedum plants also filter the exhaust gases, for which the car traffic is responsible. Another benefit of Sedum is 'urban air conditioning'. The vegetation absorbs moisture, to the effect that the ambient temperature in the city is reduced. This is a welcome relief during the hot summer months in Warsaw. Sedum is well suited to the Warsaw climate. The plants are drought-resistant and are able to withstand a long period without water. An additional benefit is, that due to the vegetation, the temperature of the rails is lowered; therewith prolonging the durability of the rails.
Green infrastructure of Warsaw
The installation of the Sedum blankets took place between 00.30 and 4.15 am, since there is no tram traffic between those hours. Warsaw Trams is gradually expanding the range of green tracks. Already 19 km (66,000 sqm) of the tracks have turned green. In the coming five years the total area will be increased with at least 100,000 sqm, according to Robert Grzywacz, director of infrastructure at Warsaw Trams.

Watch the video below to see how the Sedum blankets were installed in the nightly hours and the final result. Installation of the Sedum-mix blankets took place at night.