LEED Platinum certificate for headquarter Skanska
Posted on Monday 05 May, 2014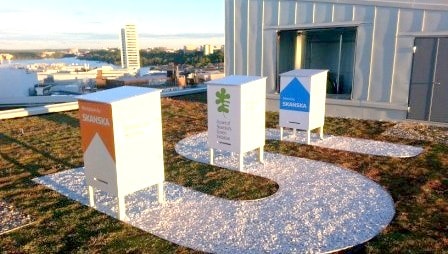 Skanska's new headquarters Entré Lindhagen in Stockholm, completed in January 2014, is one of Scandinavia's most environmentally friendly office buildings. It features a green roof with vegetation blankets by Sempergreen, that are especially designed for this project. Now, the Green Building Certification Institute has approved the highest category Platinum according to the environmental certification LEED.
Premier mark of achievement in green building
LEED (Leadership in Energy and Environmental Design) certification is recognized across the globe as the premier mark of achievement in green building. The number of credits are accrued in five categories: sustainable sites, water efficiency, energy and atmosphere, materials and resources, and indoor environmental quality.
Sempergreen develeped the vegetation blanket with Sedum and meadow flowers on request.
Bee hives contribute to increased biodiversity
Entré Lindhagen was designed to have an energy consumption that is 50 per cent below the Swedish regulation. Entré Lindhagen will be self-sufficient in relation to cooling thanks to the Deep Green Cooling™, Skanska's concept for ground source heating and cooling, solution that utilises ground storage to cool the building and ensure low energy usage and high air quality. The green roof with sedum and meadow flowers supplied by Sempergreen absorbs water and carbon and the bee hives on the roof will contribute to increased biodiversity.