Green Roofs in Australia
Sempergreen Australia is located in the area of Melbourne and a leading provider of a wide range of green roof solutions designed for Australian conditions. With several years of industry experience and ongoing maintenance services available Sempergreen Australia supplies quality green roof systems and services to the Australian market. Green roofs from Sempergreen consist of plants specifically grown for the climate conditions across Australia. In addition to the nursery in Australia the Sempergreen group has several nurseries and glass houses worldwide and over 25 years of experience in the nursery business specialised in green roofs, green walls and ground cover.
Green roofs for healthy futures
The majority of Australians (59%) continue to view climate change as a critical threat together with global warming following a poll. Moreover environmental disasters such as bushfires and floods were among the top-ranked threats in 2020.
To combat these devastating effects of climate change, green spaces are essential in high-density urban areas. That is why many Australian cities like Melbourne and Sydney are working on integrating more greenery into the city by installing green roofs, also called living roofs. Since 2014 the City of Sydney recognises the many benefits that green roofs and walls can provide and raises awareness for more green roofs and wall installations to enhance climate change resilience. Green roofing is highly beneficial to humans, biodiversity and the climate. Living roofs from Sempergreen consist of plants specifically grown for the climate conditions across Australia.
The benefits of a green roof
Green roofs do not only look beautiful, they also provide a multitude of benefits, a greater part of which is helping cities adapt to climate change, become more sustainable and more liveable. They
reduce environmental pollution and air pollution by absorbing CO2 and particulates;
prevent flooding and improve stormwater management by acting as a rainwater buffer;
improve the energy efficiency of solar panels by reducing the roof temperature;
provide people and animals a healthier environment in which to live and work;
create a healing environment for patients and support mental health;
increase productivity of employees who have view of green roofs;
have a cooling effect on the environment, mitigating the urban heat island effect;
Increase the value of the property
Are green roofs worth it? Find out in this article.
Sempergreen's green roof design
Sustainable solutions for all roof types
The most common applications for green roofs are flat roofs. Hotels and restaurants across the country have already turned their grey rooftop into a beautiful rooftop garden, creating an attractive space for visitors. Thanks to over 25 years of experience, Sempergreen has developed green roof solutions that fit any roof: from flat roofs to pitched roofs. Sempergreen's range of green roof systems includes, among others, a unique lightweight system, suitable for flat roofs such as carports and buildings that require a solution with a light saturated weight.
Pre-grown vegetation blankets and trays for the Australian market
The smartest way to create a green roof is by using the pre-cultivated vegetation blankets or trays from Sempergreen. With over 90% plant coverage on delivery, they can be put into place quickly and offer a perfectly green result from day one. Sempergreen's product range includes a wide selection of vegetation: from Sedum to local succulents to Wildflowers that stimulate biodiversity. The plants have been carefully selected in accordance with the local climate.

The text continues after the photo.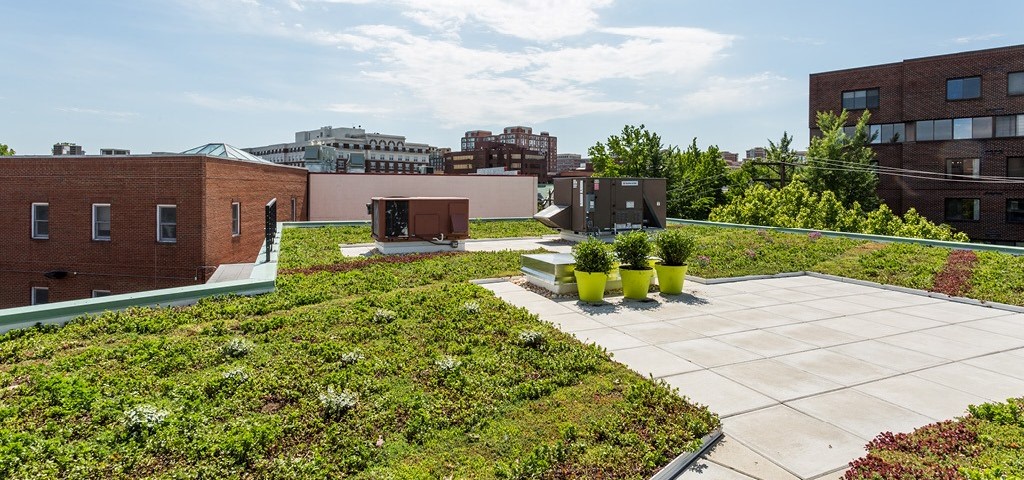 Why a green roof?
Beautiful all year round
Despite cold and cloudy winters in the High Country and dry summers in cities like Melbourne or Sydney, the vegetation of a green roof from Sempergreen is perfectly capable of surviving temperature fluctuations. Sedum roofs stay green throughout the year, while the wildflower blankets blossom in beautiful colours during spring and summer. Sempergreen offers various plant compositions, according to your specific requirements.
Easy installation and low maintenance
First, the green roof construction. The foundation of a high-quality, solid green roof is the right system structure. Sempergreen will advise you on drainage and substrate required for your specific project. Once the system structure is in place, the last step consists of adding the vegetation. Unlike individual plants, Sempergreen vegetation blankets or trays can be put into place quickly and easily. The extensive green roofs from Sempergreen are low in maintenance, which makes them a cost-efficient solution. They are suitable for small to large surfaces including roofs of industrial buildings and large apartment complexes.
Can green roofs work with solar panels?
Solar panels and green roofing should be an essential feature of every building. The City of Adelaide, in South Australia has recently announced that all new roofs will be made to carry solar panels. It's the first council to make this decision and it means that more houses around Adelaide will have a chance of having low cost solar power. Photovoltaic (PV) solar panels work best in sunny conditions such as those found in Australia. In addition Solar/Photovoltiac panels can work more efficiently when installed over a green roof system. The micro-climate around the panels is important. If it is too hot, the panels can lose efficiency. The green roof element can have a cooling effect, especially in summer. Thus green roofs improve the efficiency of solar panels.
Thus why not combine two of the world's greatest technologies and also give your rooftop a fresh new look and save money?
Enjoy the living architecture of green roofs
Would you like to learn more about Sempergreen green roof systems and get an answer on how much green roofs cost? Get in touch today to discuss your project and to receive a free offer. Sempergreen's Australian representative has the expertise and equipment to realise projects of any size across Victoria, Australian Capital Territory and South East Wales.
Request a free quote Contact Sempergreen