Green roof for consumers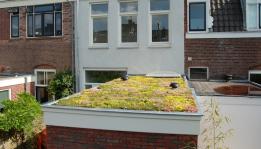 Green roofs, roof gardens and gardening on the roof are increasingly becoming part of the urban scenery. And that is not without reason. Greenery in the city creates a more pleasant living environment for people as well as animals. A green roof purifies the air, extends life span of your roof and regulates temperature in your home. Furthermore, it puts greenery back in the city so that biodiversity can increase again. For example, our bees & butterflies vegetation blanket. It's not only bees and butterflies that benefit from this; from early spring to late autumn you have a lovely flowering roof to look at. Did you know that almost every roof is suitable as a green roof? Below you can read more about extensive roof gardens.
Profit from the many benefits
A green roof has many benefits at economic, ecological and societal level. A green roof provides a rainwater buffer, purifies the air, reduces the ambient temperature, regulates the indoor temperature, saves energy and encourages biodiversity in the city. Green roofs are part of climate-proof construction. What's more, people are happier in a green environment than in grey surroundings.
Did you know that a green roof increases the efficiency of solar panels by 6-20%?