Can I have a green roof on a steeply pitched roof?
Publicerades den tisdag 04 januari, 2022

Does your building project have a pitched roof, but would you still like to enjoy the benefits of a green roof? No problem! It's possible to add greenery even on steeply pitched roofs. Solar panels can also be added into the mix. Our Sempergreen Sedum-mix blankets type T, with plastic reinforcement at the top and bottom, have been especially designed for this purpose.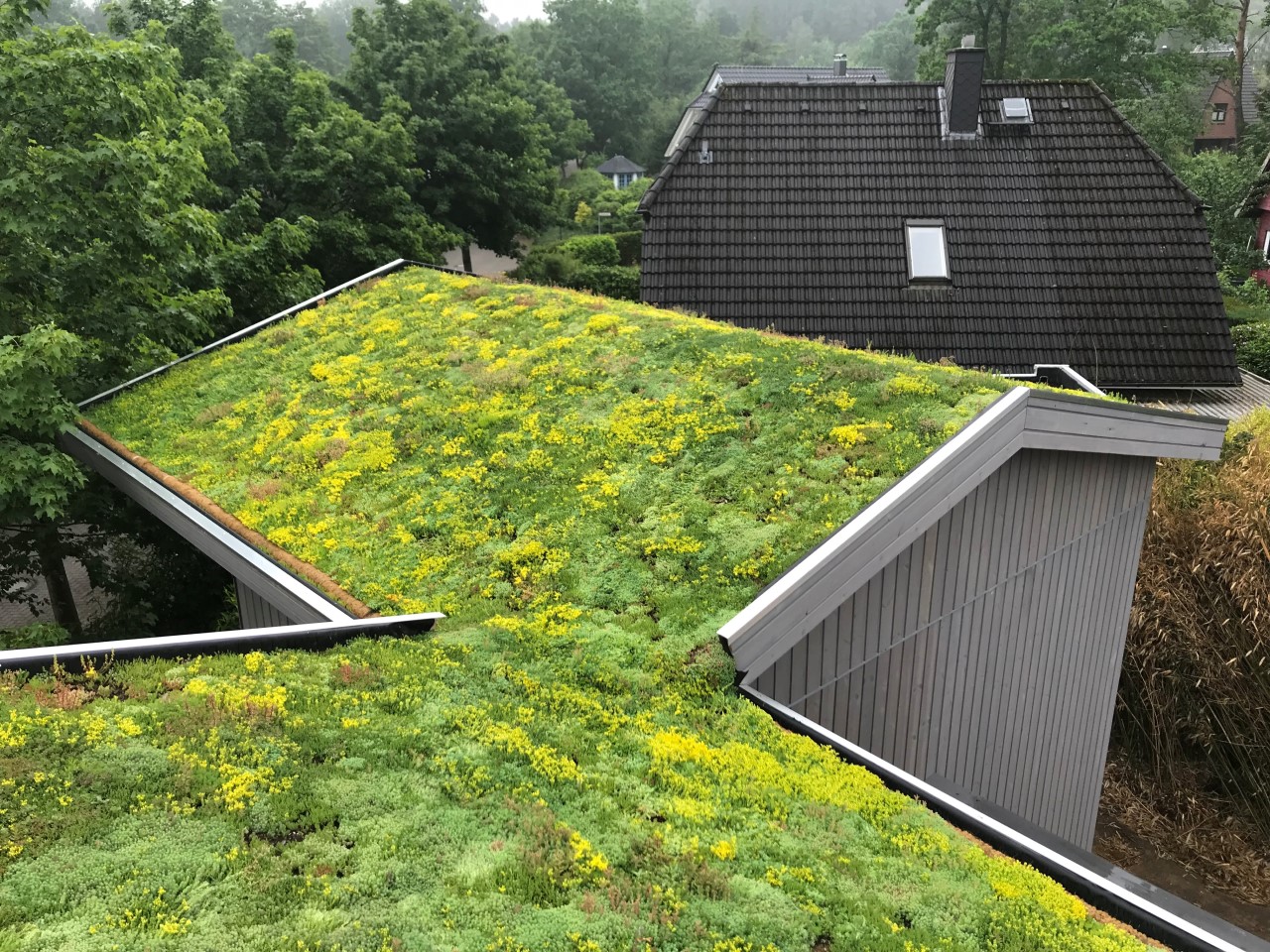 What is a pitched green roof and what kinds of environmental benefits does it offer?
In this article we're focussing on steeply pitched green roofs. With this term, we're referring to a pitched roof with a minimum slope of 25 and a maximum pitch of 45 degrees that is covered with plants. But why would you actually want to cover a pitched roof with vegetation?
Green roofs have many advantages, especially in times like these where climate change increasingly has a bigger impact on our lives. Green roofs are environmentally friendly roofs. They help to combat the causes and negative effects of climate change. For instance, they absorb CO2 and particulate matter, and use and buffer rainwater. Additionally, green roofs have a cooling effect on both their surroundings and the building underneath. And that's not all! Urban biodiversity also gets a boost when pollinators can use blooming Sedum as their food resource and resting place. And finally, human well-being is also positively affected by more greenery in the local environment.
Examples of pitched green roofs
As an internationally-operating organisation, Sempergreen has been supplying green roof systems for every surface and roof pitch for years already. Take a look at the green roof of a villa in Täby, Sweden or the steeply pitched Sedum roof on a this sustainable villa in Groningen, the Netherlands: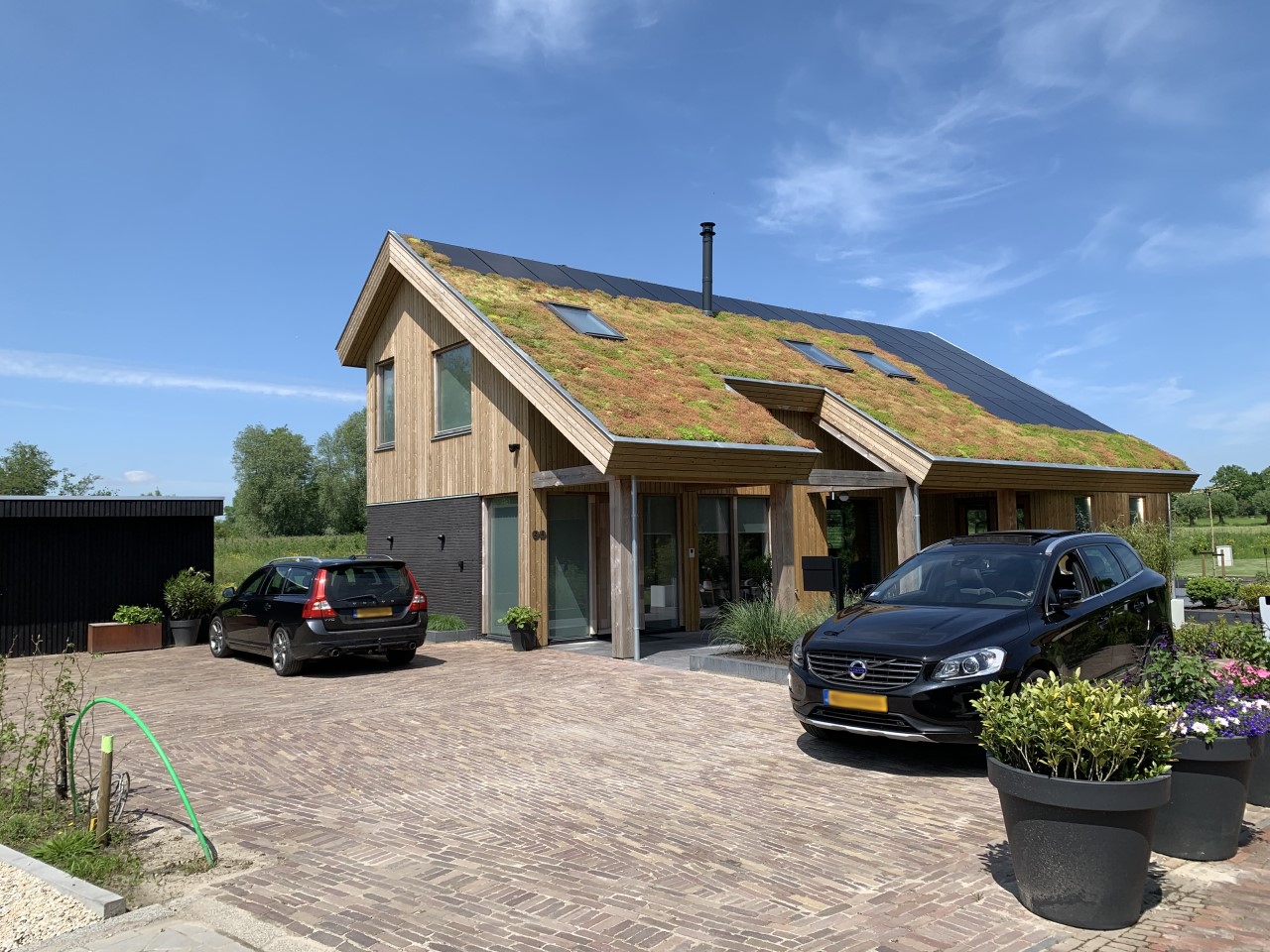 Steeply pitched Sedum roof project with solar panels in the province of Groningen, the Netherlands
What do you need to consider when installing a steeply pitched green roof?
For a vegetated roof that's beautiful and green all year round, you have to ensure that the right materials are used at the installation and that the roof is adequately maintained. At the beginning of this article, we've mentioned the Sedum-mix blankets type T for steep-slope applications. The reinforced substrate holder that is used with these special blankets creates a pitched green roof that is stable and stays in place. To make sure that the sloped roof can be safely installed and maintained, the use of solid fall protection is a must. Furthermore, an irrigation system is essential for this kind of green roof. Due to the slope, rainwater will travel down towards the roof edges more quickly, which can cause the greenery at the top of the roof to dry out. The irrigation ensures that all of the vegetation receives plenty of water.
When the pitched Sedum roof is installed, it's important to perform maintenance 2 to 4 times a year. Checking the drainage system and irrigation, removing weeds that have been carried in by the wind and fertilizing the green roof would be part of the maintenance activities.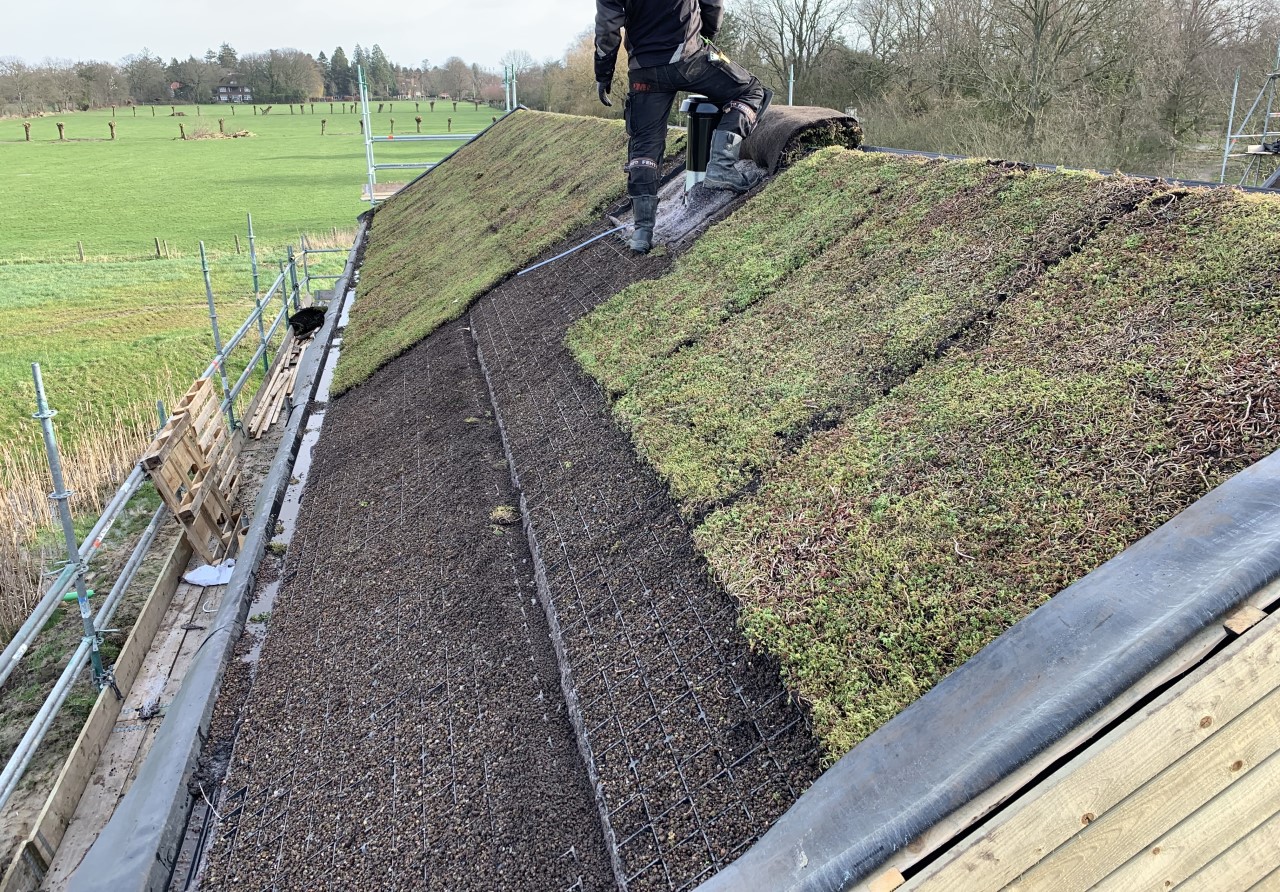 The installation of the Sedum-mix blanket type T on a steeply pitched roof
The structure of a sloped green roof
A steeply pitched green roof (25 - 45 degrees) consists of four layers: a water-buffering fleece that stores water and protects the roofing, a substrate holder that prevents the substrate from moving, roof garden substrate that serves as the growing medium for the plants, finally topped off with the Sedum-mix blanket type T. In contrast to Sempergreen's other Sedum-mix blankets, the type T includes a plastic reinforcement at the top and the bottom, which makes it very suitable for (steeply) pitched applications.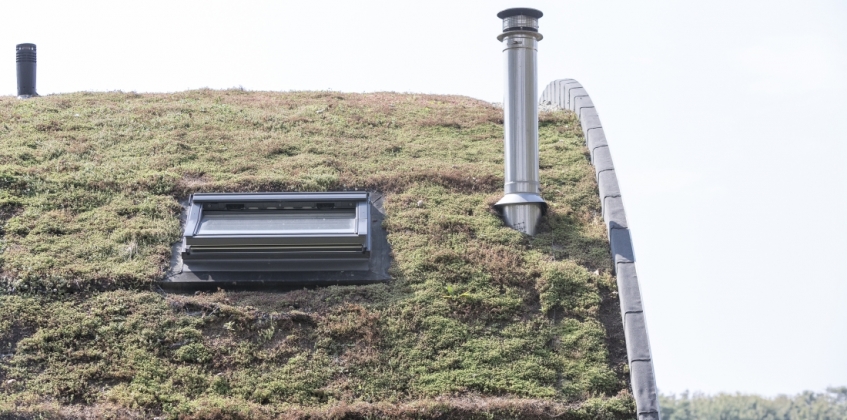 Sloped green roof detail - Photo by BTL Nederland
Pitched Sedum roof with solar panels
We regularly hear people say: "It's better to use your roof for solar panels than plants." Our response to this is, why not both?! Solar and Sedum go exceptionally well together. A roof that combines both solutions not only provides sustainable energy, but also improves the living environment of the local fauna, effectively boosting the biodiversity in the area. Besides, by providing a cooling effect a green roof can even improve the efficiency of PV panels.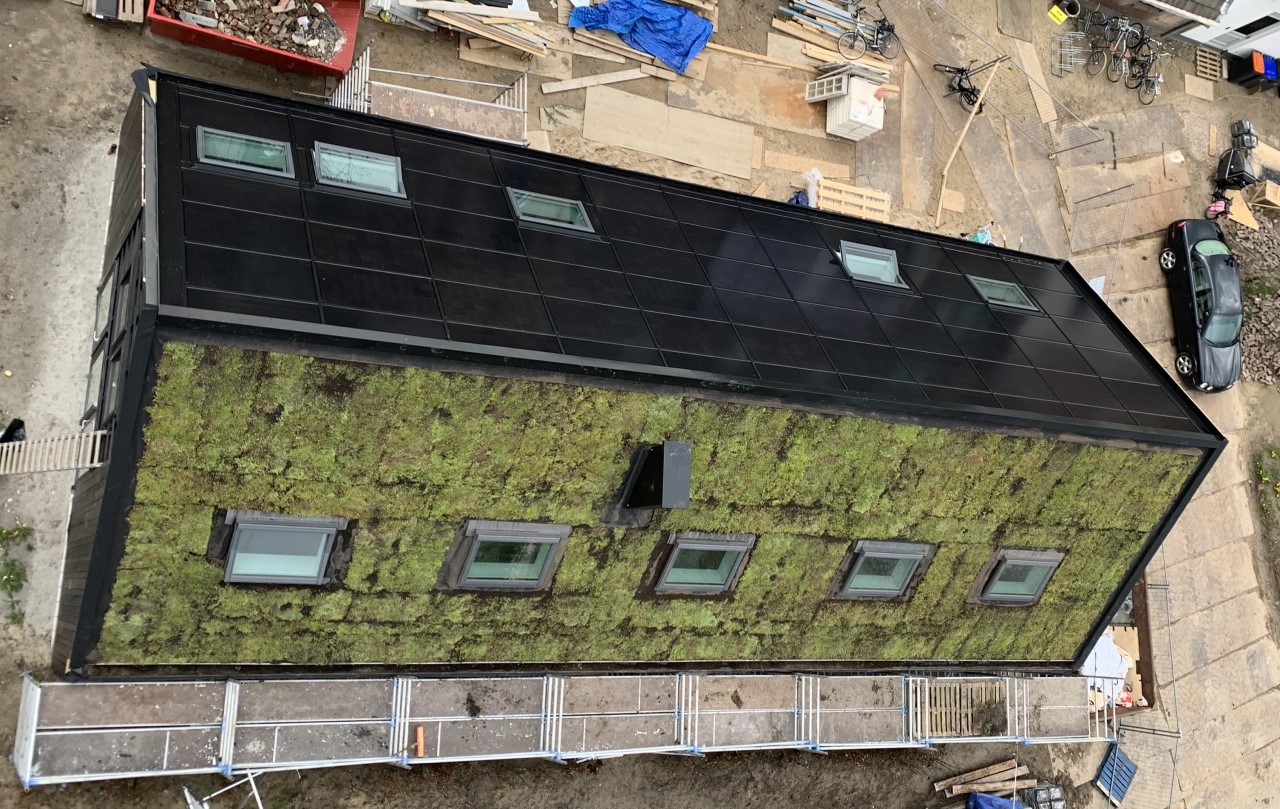 A great example of a roof combining solar panels and Sedum plants.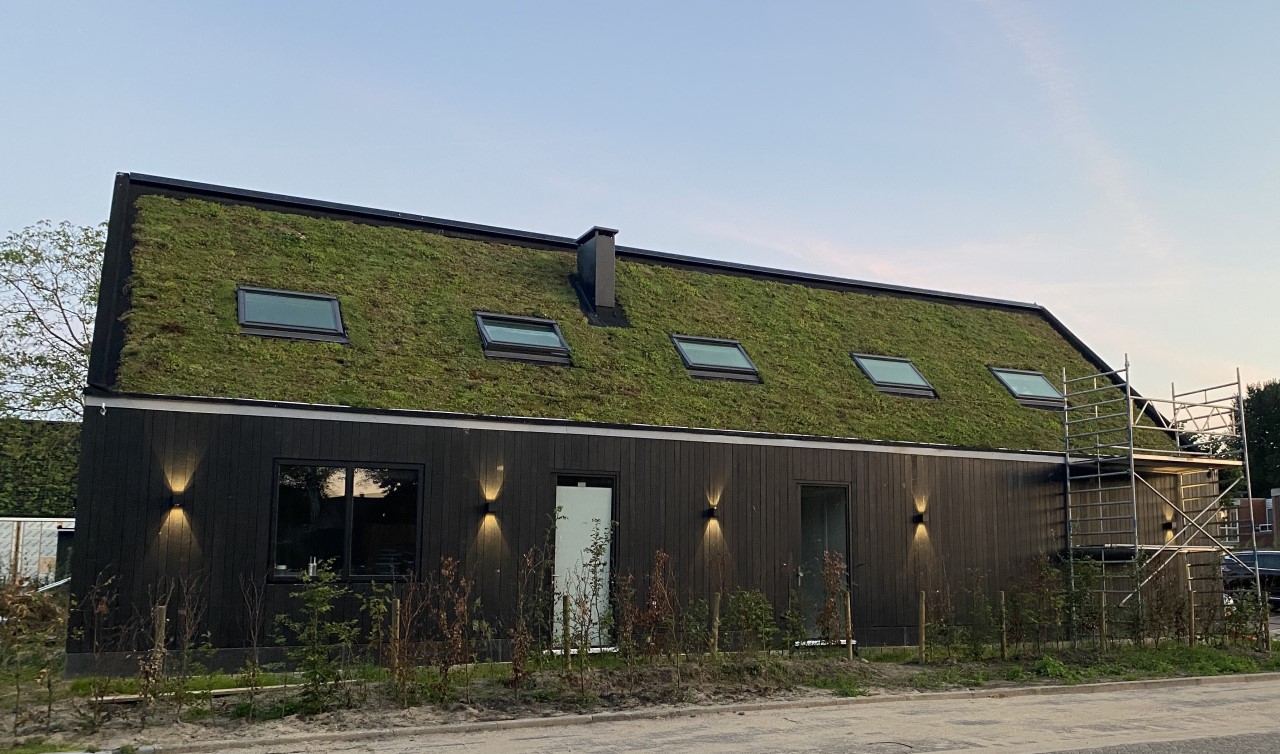 More information
Are you considering to use a pitched green roof design for your project? Feel free to request a quote or get in touch with one of our specialists in Scandinavia. They're happy to assist you!