Sky View Parc NYC – the smartest green roof of North America
Posted on Tuesday 04 December, 2018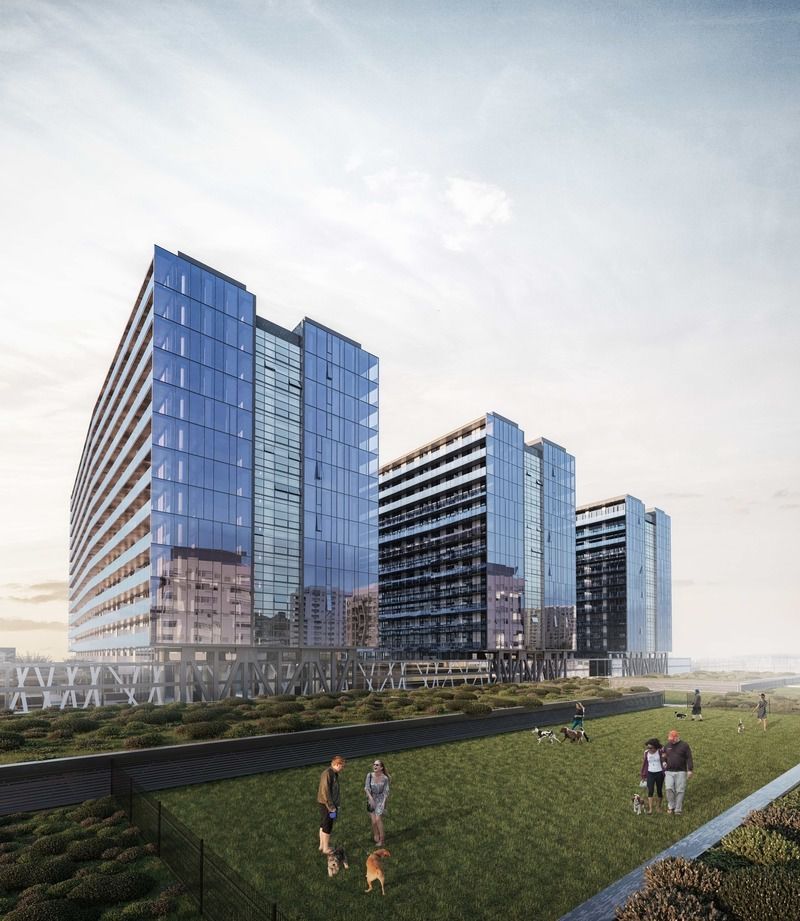 Located in the prime location of Downtown Flushing, the 1,200-unit Sky View Parc is one of the largest mixed-use developments in New York City offering a new and unique investment opportunity. The owner saw value in aesthetic green and made it into one of NYC's largest green roof stormwater sponge. The architects delivered a smart and spectacular design featuring amazing views of Manhattan, a health club and spa, outdoor sports, as well as a 55,000 sq. ft multi-level green roof on top of the parking garage with Sempergreen Sedum blankets. The outcome is beyond expectations.
Seamless flow between interior and exterior spaces
The second phase of the Sky View Parc development is a gleaming beacon, just minutes from Manhattan, NYC. architectsAlliance, responsible for Phase 2 of Sky View Parc, designed a plan in which Architecture and Landscape were highly integrated in order to create a seamless flow between interior and exterior spaces. The well-integrated design offers lots of garden space and recreational areas to swim, barbeque and relax with many areas for the residents to enjoy.
Multi-level green roof creates a cascading waterfall of vibrant green
On top of the parking garage a multi-leveled green roof is created. Landscape Architect James P. Gilday: "Knowing this is viewed from the adjacent towers and instead of creating a single level roof plane, we used the garage structural grid to create a two-dimensional design and extrude it to create a three-dimensional design. The elevation changes use light and shadow effects coupled with vegetation and turf areas to create visual and spatial interest from all levels of the rooftop." Combined with the ground level park and other green amenities it creates a cascading waterfall of vibrant green.
DOWNLOAD HERE FULL PROJECT CASE
Text continues below image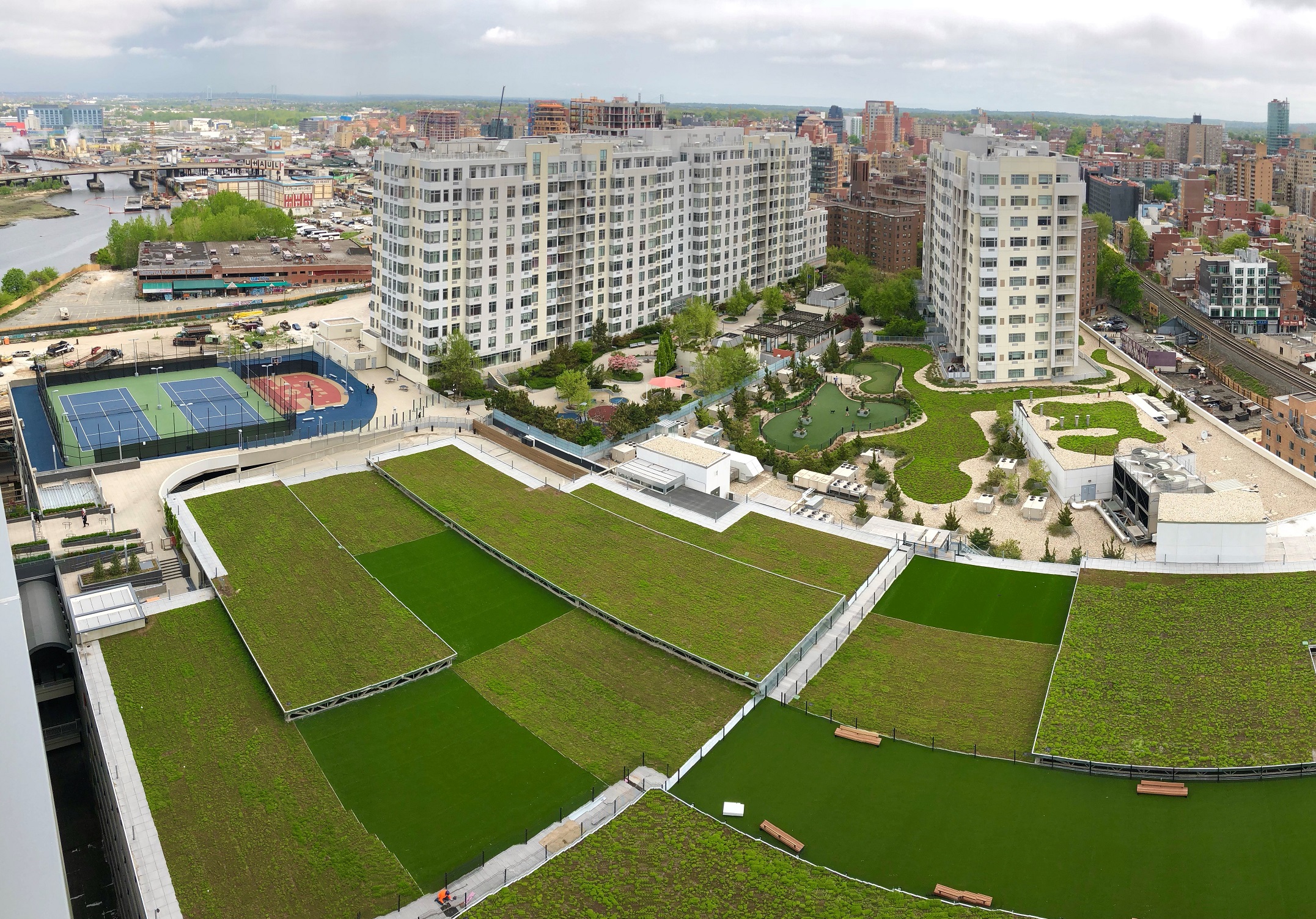 Incorporation of stormwater storage
To retain and detain water during stormwater events architectsAlliance incorporated a large stormwater storage tank within the space between the tower and podium. The green roofs also play an important role in the drainage of stormwater. Dick Bernauer of Sempergreen USA: "The Purple-Roof concept provides an instantly vegetated roof that utilizes vegetation as a tool to protect the soil and resist runoff. Purple-Roof successfully retains the most water and minimizes and/or eliminates fine particles and fertilizer runoff, making it the smartest green roof of North America."
Urban logistics - a logistical challenge
The sheer size of the Sky View Parc green roof has its impact on logistics. 55,000 sq. ft is exponentially larger than the typical urban green roof project. Green roof installer Ian Dana of Blondie's Treehouse: "It takes special coordination and full and frequent information sharing at nearly every aspect, from grower to transport, storage and install, to maintenance. A lack of urban space for staging required some creative storage and delivery planning." Joe Donnelly, Rooflite soil supplier: "There is no space. It is the chorus line of commercial construction jobsites. But at the same time with installation taking place in winter, there is no room for error. Thanks to working with a team that can literally move mountains and using a wide-open channel of communications ensuring everyone is on the same page, we were very pleased to meet and exceed every expectation to ensure longterm success on this green roof project."
Green roof maintenance ensures continued benefits
A green roof is only successful when the roof stays green. "The secret to green roof maintenance lies with the art of nurturing the plants and give them the minimum of what they want in order to get the maximum outcome. We fertilize less than most as we use unique soil sampling techniques that tell us exactly what the plants want." says John Goonan of Moerings Maintenance. The giant extensive green roof provides the community with several benefits including lower temperatures, cleaner air, noise reduction, reduction of stormwater runoff and increase of property values. It is the most visible exterior feature of the new luxury development and therefore symbolic of the improvements to the neighborhood.
Successful project leads to further investments and new green roofs
The success of the project has already led to further investment in the surrounding area and infrastructure plans pointing toward a bright new future for Flushing, NYC. The green roof is a benefit not only to the residents and the environment at large, but as an effective sales tool for developers and marketers as well. Green roof installer Ian Dana of Blondie's Treehouse: "Large, high profile projects like Sky View Parc have a big impact on awareness, making the green roof a household name. There will be a New York City in the not-too-distant future blanketed with green roofs from Far Rockaway to the northern-most reaches of the Bronx, delivering real, quantifiable improvements to local waterways, a greater diversity of plants, birds and insects, and newly created habitats for pollinators like honey bees and butterflies.
"Green roofs are not a trend, they are here to stay"