Green healthy hospitals – on the way to sustainable care
Posted on Tuesday 14 March, 2023

Hospitals and care centres face a major challenge in becoming healthy and sustainable institutions. The built environment affects our health. Numerous contemporary environmental health problems, such as climate change, toxic pollution and loss of biodiversity, can be associated with the production and maintenance of the built environment. The health sector, given its market power, has the potential to positively influence the construction industry to develop safer, greener and healthier building products and systems. In addition, governments worldwide have committed to reducing CO2 emissions. Hospitals can make an important contribution to this, because they have relatively high CO2 emissions. The time is now to take major steps towards a sustainable and climate-proof design of care centres and the associated environment. Installing green roofs – whether or not in combination with solar panels – and green facades can easily contribute to 'building green'.
Healthcare dilemma – quality and safety vs. ecological footprint
In the healthcare sector, quality of care and patient safety are paramount in the objectives. At the same time, the ecological footprint of healthcare institutions - through CO2 emissions, waste production and unsustainable food supply - weighs heavily on the health of the environment. In the past, the focus in healthcare was on medical innovations. When sustainability was discussed, people were sometimes concerned that this would be at the expense of the quality and safety pursued. Gradually, however, there is a dawning realization that both objectives can be pursued and achieved simultaneously.
Healthy living and working environment with green roofs and living walls
Creating a healthy living and working environment does not need to be complicated. Applying a green roof to a hospital or installing a green facade on the outside or in, for example, the reception area of a care centre is easy to realize. A green roof or green wall is usually installed in a few days, without major adjustments to the building structure. The green roof or living wall can be part of a 'healing environment design'; a healthcare environment that contributes to well-being, faster recovery, and just as importantly, a positive hospital or healthcare experience.
Positive health effects of a green environment
Many scientific studies have shown that staying in or overlooking a green environment has a positive effect on people's well-being. This effect has been proven on both physical and mental well-being. Below you will find a brief summary of scientific research into the positive effects of a green and nature-inclusive environment:
Patients heal faster in a green environment
When patients stay in a green environment, their pain tolerance is higher (1). This reduces the need for painkillers, for example after surgery. The patient's recovery is also faster, which shortens the number of patient days. A green environment also has a positive effect on the sleep rhythm. A good night's sleep promotes a faster recovery of muscles and the removal of waste and thus the overall recovery (2). In addition, greenery lowers blood pressure and heart rate, improves the immune system and reduces inflammation (3). The benefits for the patient are therefore numerous.
Lower absenteeism among employees due to a healthy green environment
A green environment is also beneficial for employees in the care sector on various fronts. Working in a green environment reduces cortisol levels (stress hormone) and therefore a state of stress. In addition, the greenery absorbs many harmful substances from the air, such as CO2. Due to fewer pollutants in the air, asthmatic complaints decrease and there is less damage to the central nervous system, resulting in fewer psychological disorders, such as depression (4). Thanks to the plants creating an oxygen-rich environment, employees experience fewer headaches and fatigue. Ultimately, these benefits lead to lower absenteeism among healthcare workers (5).
For some of the above effects, it is not necessary for the greenery to be present in the room itself. Looking out onto a green roof or green facade is therefore an effective way to achieve health benefits for both employees and patients. If you want to benefit from the positive effects of indoor plants, but there is no or limited space for greenery, a plant wall can offer a solution.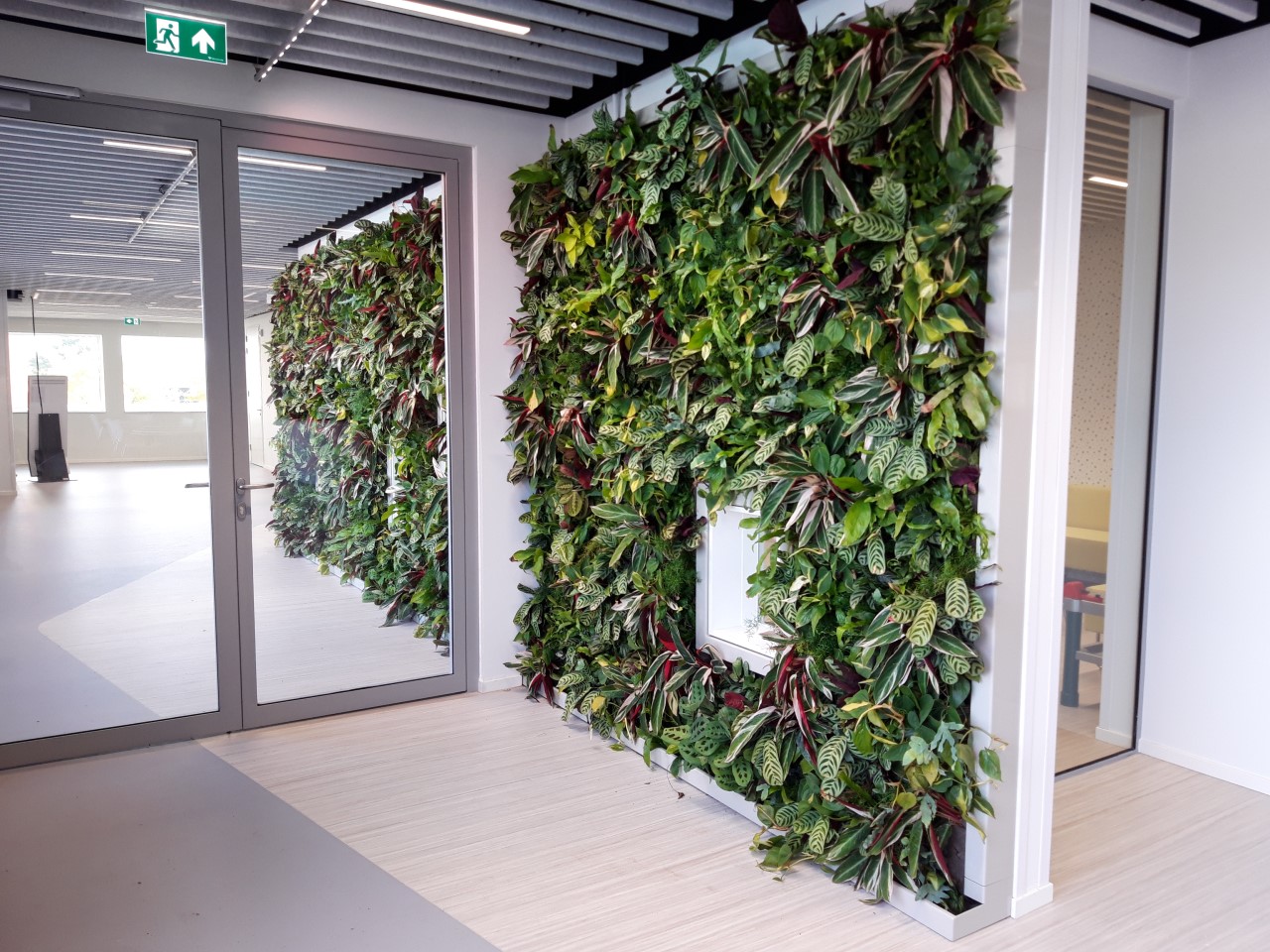 Photo: Ambius
Investing in green pays off in reducing healthcare costs
An investment in green will certainly pay off. According to recent Dutch research (6) by engineering consultancy firm Sweco among 104 Dutch municipalities, every hectare of green leads to a reduction of 8.6 patients per year. If all Dutch municipalities were to green the available space, nearly 2 billion euros in healthcare costs could be saved by 2050!
According to a study (7) from Kaiser Permanente in California, published in Environment International, the healthcare sector spends hundreds of dollars less per person per year on medical care for people living in the greenest living environments than for those living in the least green neighbourhood.
Another study (8) conducted by accountancy and consultancy organization KPMG shows that a 10 percent increase in greenery in the living environment would mean that over 84,000 fewer patients would report to their GP in the Netherlands each year. This is a potential saving of 65 million on healthcare costs. If you include the avoided labour costs, this will add up to a saving of more than 394 million euros.
Subsidy for climate-adaptive buildings
In addition to the social savings on health care costs by investing in a green environment, savings can also be realized during construction if sustainable construction methods and products are chosen. In many countries, subsidies are given for the construction of a green roof or living wall. This is often part of a national 'Green Deal'. But there are also various subsidies at local level from municipalities, regions or water boards. Ask your local authorities about the possibilities of a subsidy for the construction of a green roof or green facade.
Higher efficiency of solar panels in combination with a green roof
The financial yield of a green roof increases even further if it is installed in combination with solar panels. The green roof increases the efficiency of the solar panels, because the plants lower the ambient temperature and at a lower temperature, solar panels function better. The efficiency of the solar panels increases and moreover, this combination contributes to a reduction in energy costs and CO2 emissions and thus making hospitals and healthcare institutions climate-proof.
Examples of sustainable care from practice
Many healthcare institutions have already taken steps towards sustainability. The examples from practice below show how green roofs or living walls can be implemented at healthcare institutions.
1. OncoCubus – Recklinghausen, Germany
At the radiation centre OncoCubus in Recklinghausen, Germany, a living wall was realized in the radiation room. To prevent the sterile room from being compromised, the SemperGreenwall is placed behind a glass wall. In this way, patients still benefit from the calming appearance of the greenery during a potentially stressful treatment.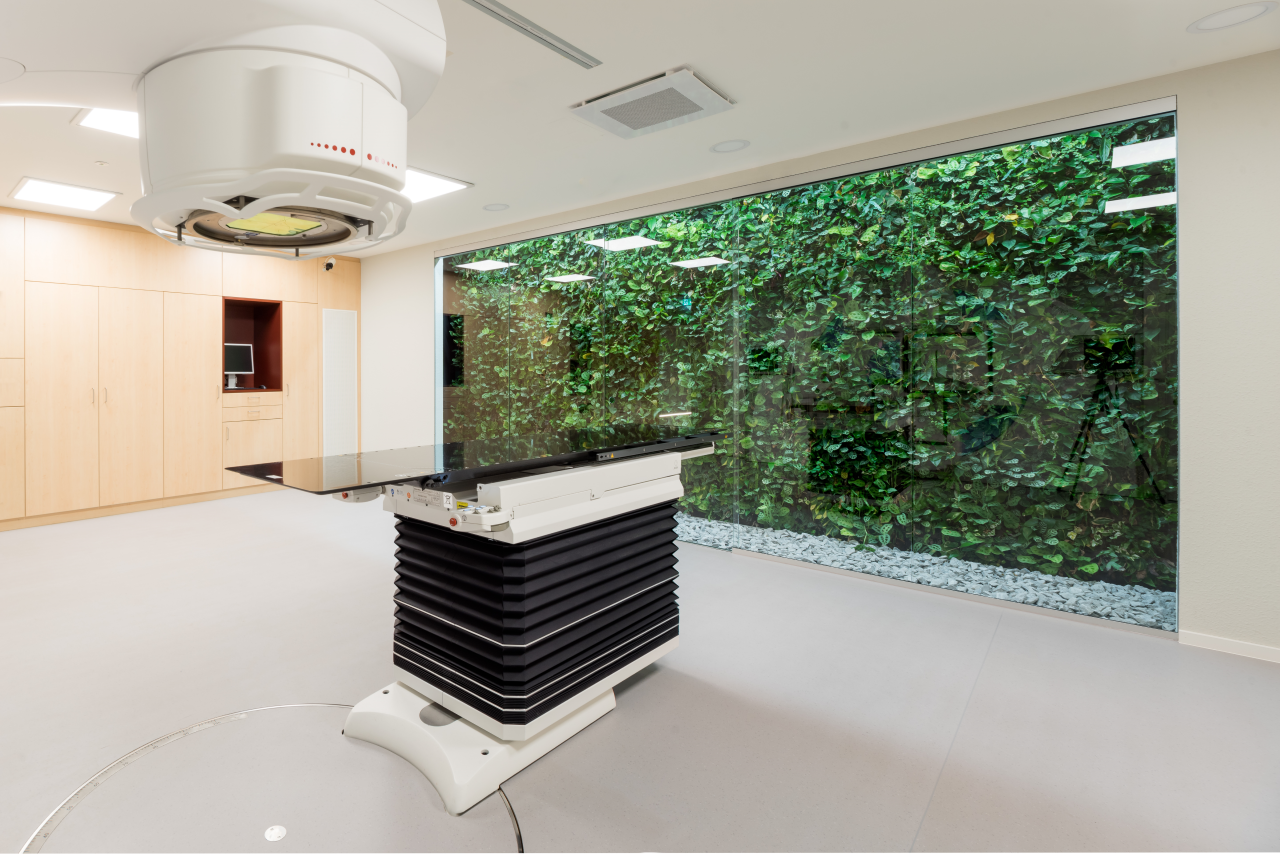 Photo: Martin Gaissert

2. Fundación Cardio Vascular de Colombia – Bucaramanga, Colombia

A good example of the implementation of a green roof is this care clinic in Colombia. Patients have a direct view of the lush green roof from their room. Walking paths have been laid over the roof, so that patients can also enjoy the greenery in the open air. The green roof contributes to a healthy care environment.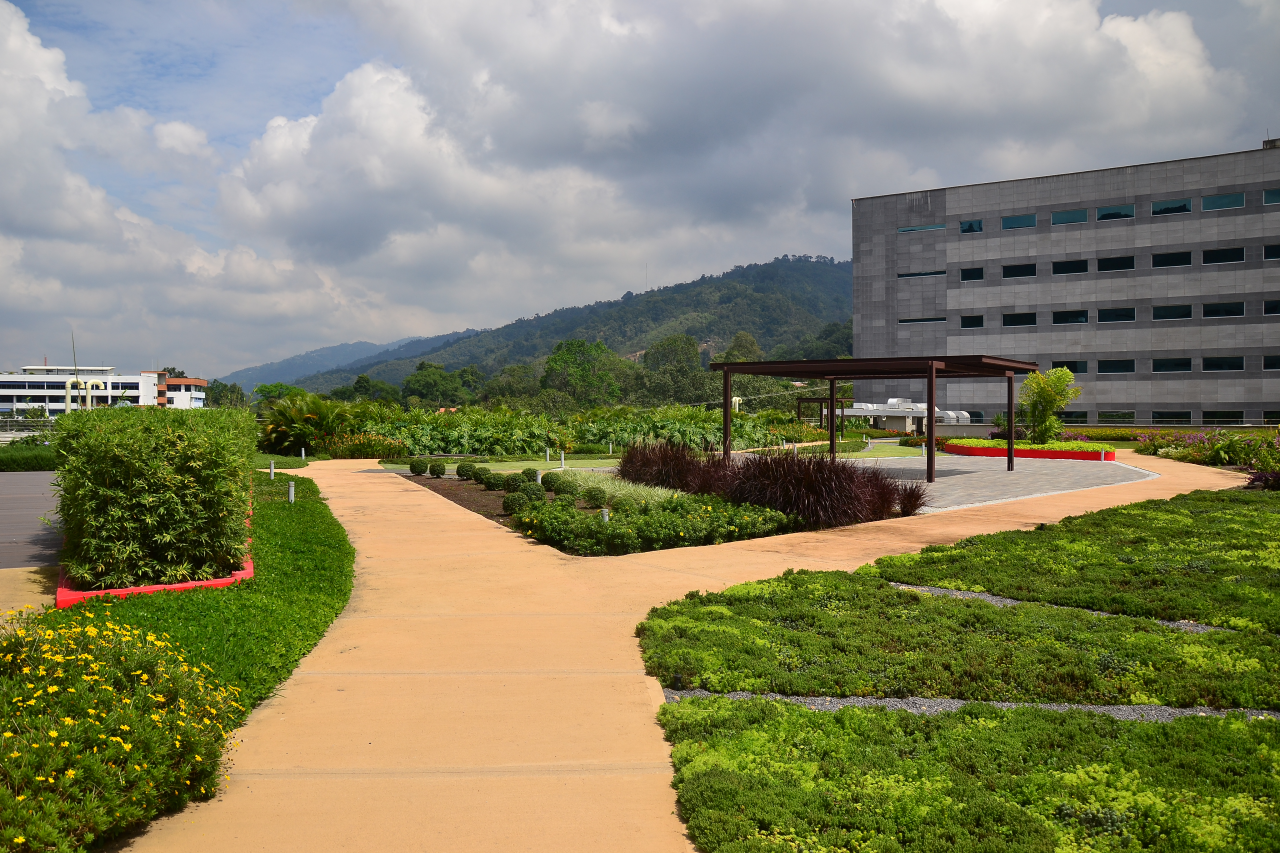 3. Radiotherapy Group – Apeldoorn, the Netherlands
In Apeldoorn, the Radiotherapy Group has opted for greening the building all around. Both the roof and the facades are equipped with plants. This makes the green visible from different floors. This nature-inclusive environment has a positive effect on both the health of patients and the well-being of healthcare workers.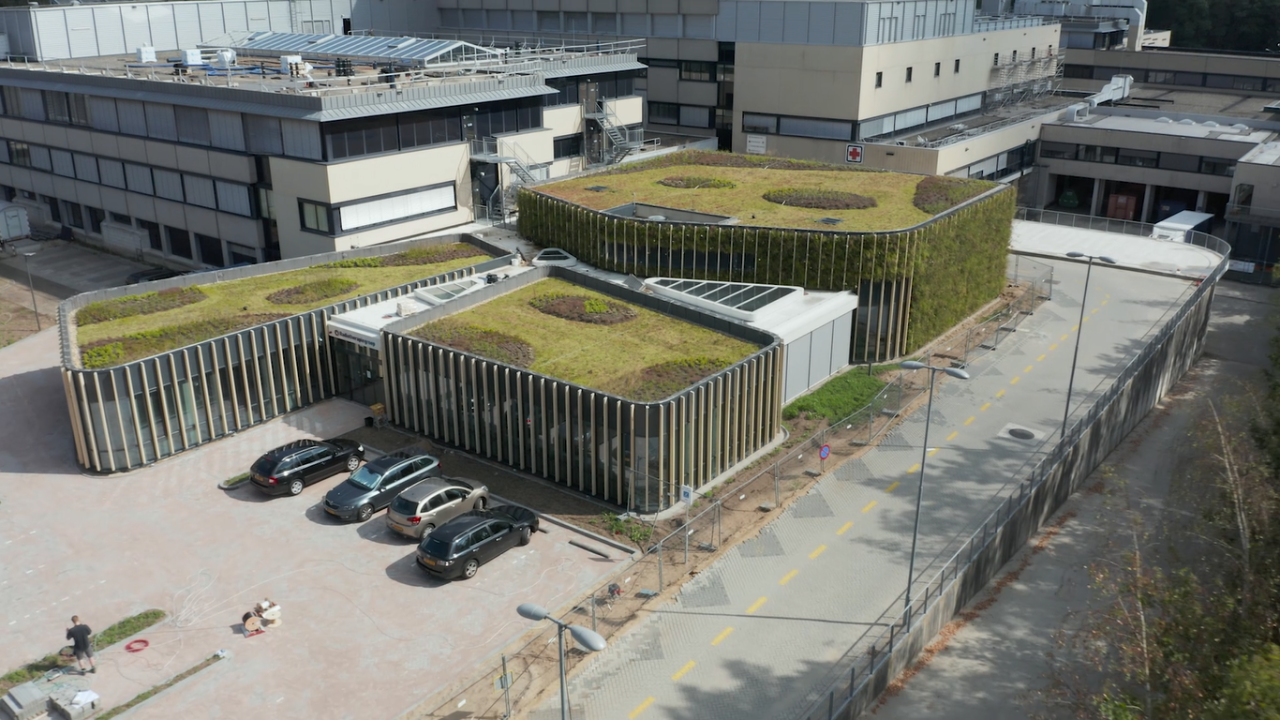 Photo: Hegeman

4. Community Health Center – Middletown, Connecticut USA

The Middletown Community Health Center in Connecticut, USA is a centralized care facility for the entire region. All kinds of care providers offer their services here. Plant beds, a lawn, vegetable gardens, fountains and an outdoor living wall have been installed on the large roof terrace. The roof terrace has a dual function. It is used both by the medical providers in the building, but also used for social events. The vegetable gardens are cultivated jointly by the social workers present and their clients.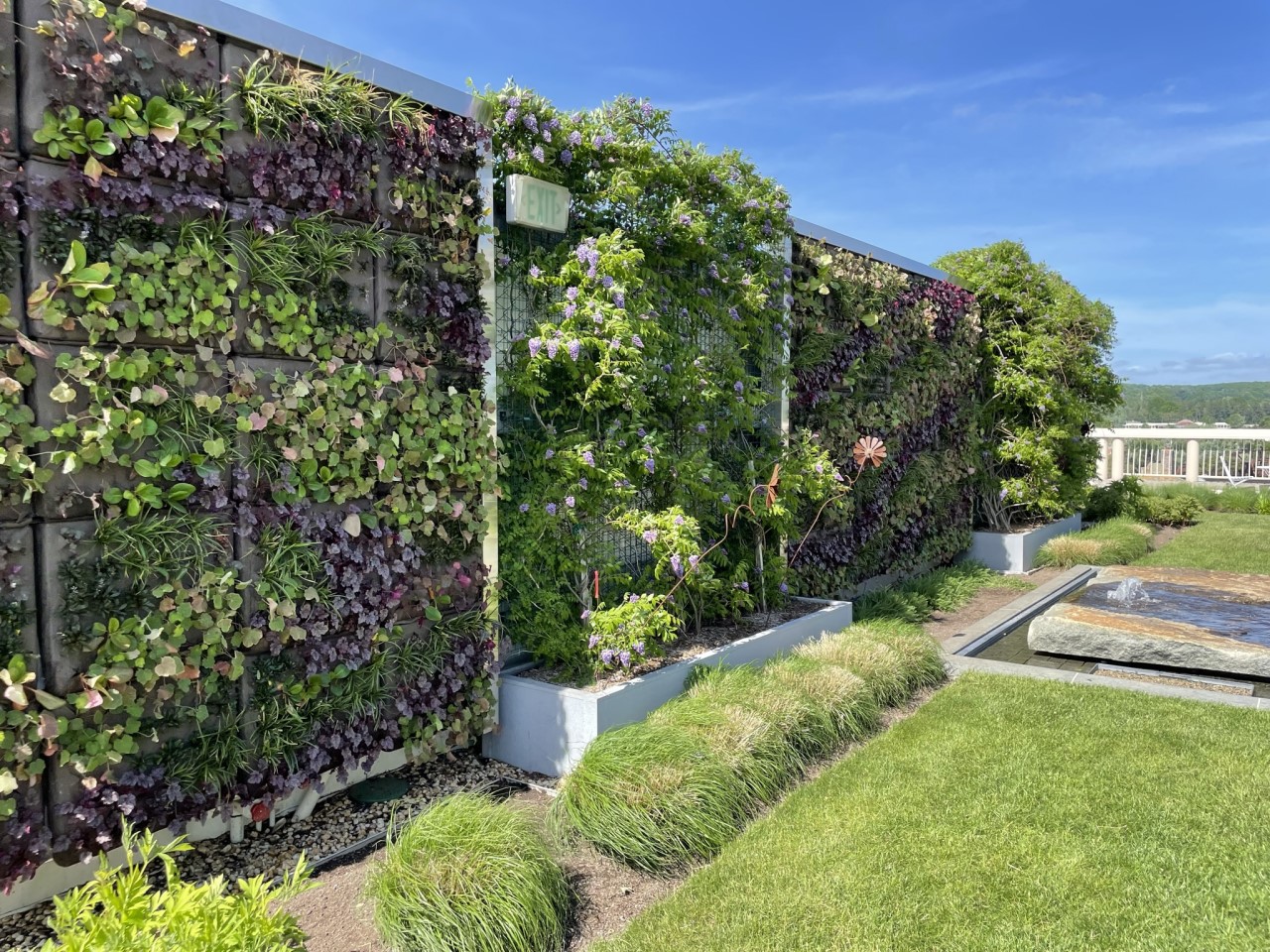 5. Residential care complex – Doorn, the Netherlands
Park Boswijk residential care complex is located on the Utrecht Hill Ridge in the middle of the extensive forests of Doorn and Driebergen. By applying an 800m2 large green roof, the building completely blends into the surrounding nature. The building is an 'apartment complex plus' for seniors, with the 'plus' standing for the green backdrop. The Sedum roof helps to keep the indoor temperature lower in the summer and also contributes to more peace of mind, because the plants absorb ambient noise.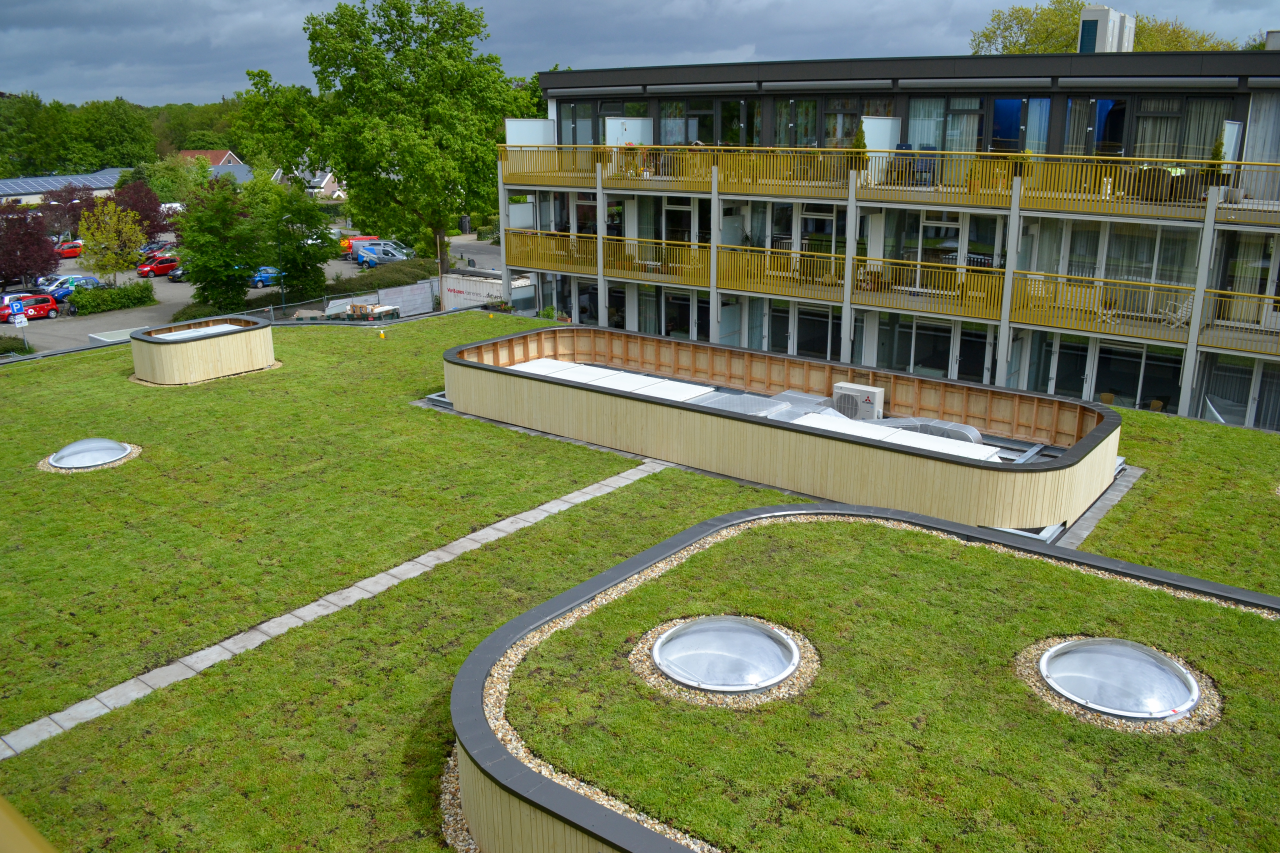 Photo: T&G Groep
6. Karolinska Hospital – Stockholm, Sweden
During the construction of the Karolinska Hospital, the entire design was focused on what is best for the patient. This has led to a prestigious project and one of the first university hospitals worldwide with LEED Gold certification. The building has also received the highest environmental rating from the Swedish Green Building Council (Miljöbyggnad Guld). Because of the proven positive effect of green roofs on the health and recovery of patients, it was decided to use a large Sedum roof of no less than 20,000 m2 on the hospital. In addition to the 'healing environment', the green roof also contributes to rainwater management and energy efficiency.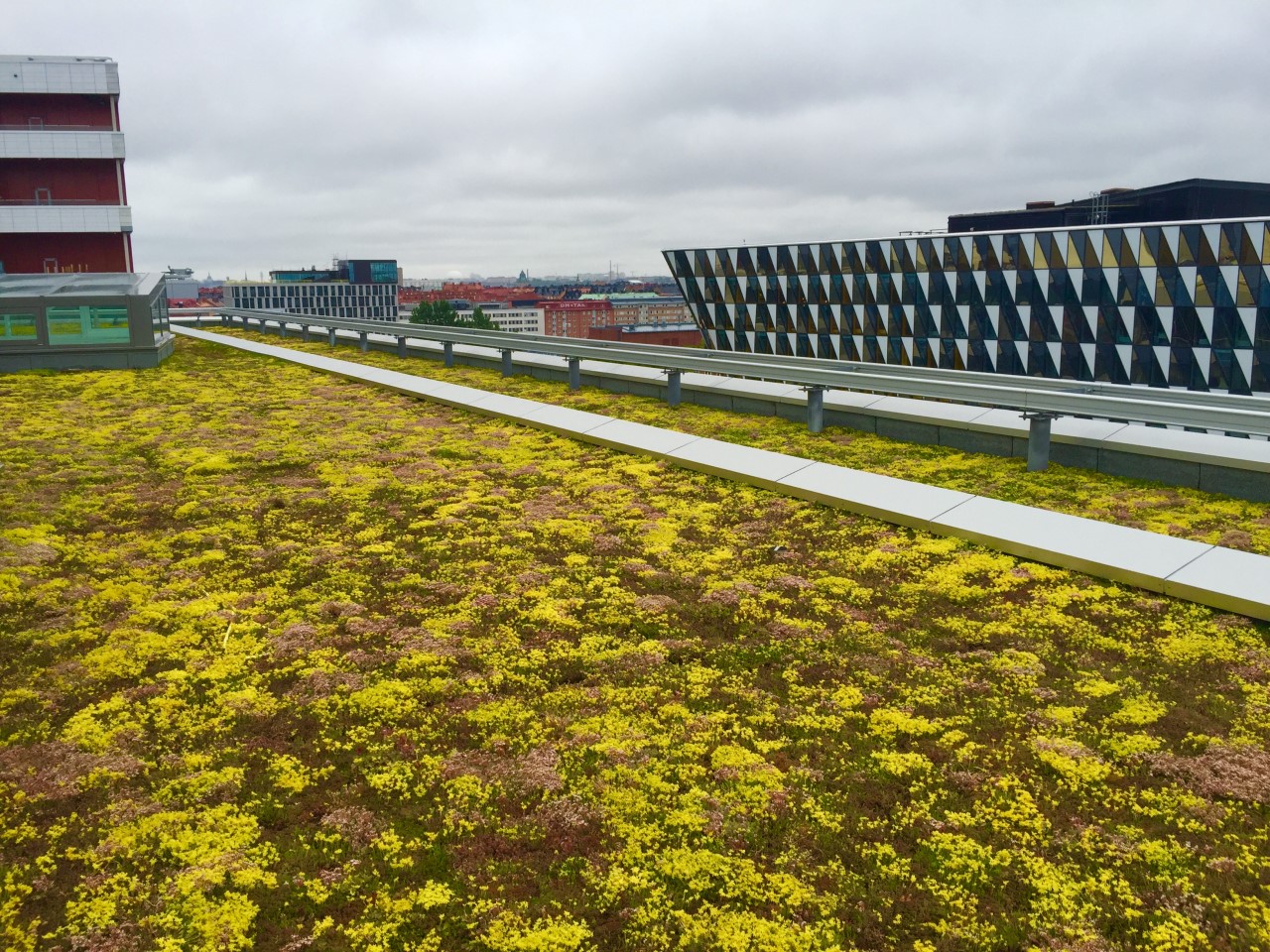 7. Hospital car park – Glostrup, Denmark
This hospital in Glostrup, Denmark, demonstrates that facilities around a healthcare institution should not be forgotten when greening. Here, the parking garage is fully surrounded by a green facade. The plants filter CO2 from the air and produce oxygen, significantly improving the air quality around the hospital. Moreover, the greenery gives a pleasant sight and a soothing feeling immediately upon arrival.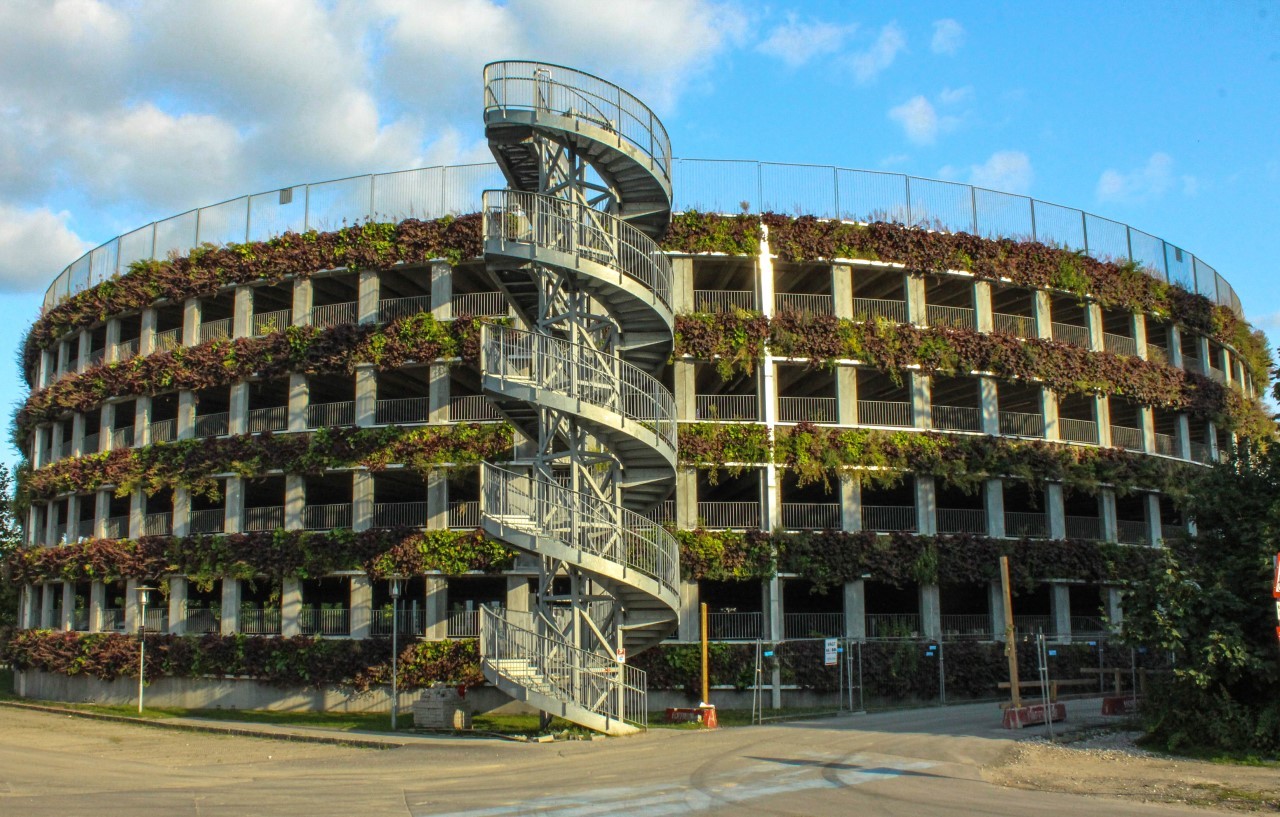 Photo: MASTOP
More information
Would you like to know more about how green roofs or vertical gardens can offer added value to the health of patients, visitors and employees of healthcare institutions? Or are you building or renovating a medical institution and would you like advice on greening? Please feel free to contact one of our advisors without obligation.
Sources: