Installation Click 'n go Sedumtrays
Please find below a written instruction for the installation of a green roof with Click 'n go Sedumtrays. This installation instruction is suitable for roofs with a maximum roof pitch of 15 degrees. Click on the button below to download this instruction as a PDF.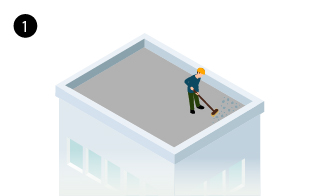 STEP 1 – Clean the roof
Clean the roof and remove dirt, waste or other materials. Check that the roof covering is not damaged, to make sure that the roof is waterproof.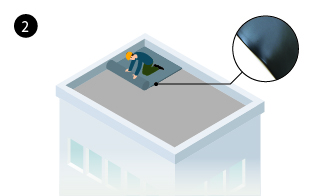 STEP 2 – Apply root barrier foil (optional)
If the roofing is not root-resistant, it is necessary to use a root barrier foil. Also cover the raised roof edge. Make sure the foil joins well by means of an overlap of 50 cm.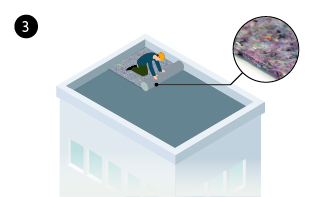 STEP 3 – Apply protective cover
Roll out the protective cover up to the roof edge and cut to size. Make sure that the cover joins well by means of a small overlap.
Cut a piece out of the root barrier foil and protective cover at the location of the rainwater downpipe(s). Cover the rainwater downpipe with a wire balloon guard, leaf trap or inspection pit.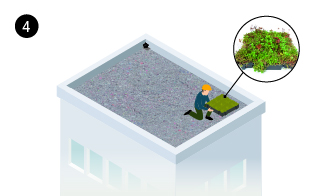 STEP 4 – Place the first Sedumtray
Place the first Sedumtray on the roof.
Start in the corner and keep about 20 to 30 cm from the roof edge.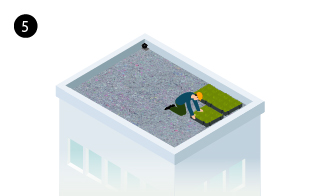 STEP 5 – Place the following Sedumtrays
Cover the entire roof with the Click 'n go Sedumtrays. Place the next tray a quarter turn against the previous one. This way the trays will exactly fit together.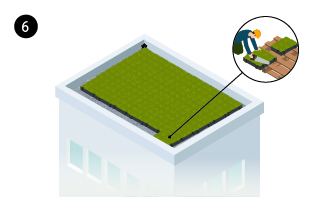 STEP 6 – Customize (optional)
If the roof cannot be completely covered with whole trays, the trays can be cut to size. Determine the correct size and saw through the tray.
Never saw directly on the roof covering!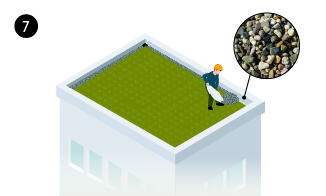 STEP 7 – Apply gravel
Apply the gravel between the green roof and the roof edge. Bring the gravel layer to the same level of the Sedumtrays.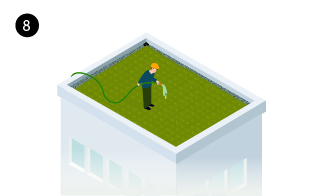 STEP 8 – Irrigate
Water the green roof immediately after installation. Water the green roof regularly when the roof is installed during a dry period.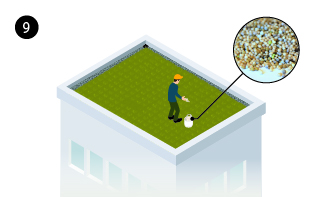 STEP 9 – Maintenance and fertilization
The maintenance and fertilization advice for a Sedum roof can be read in the document Maintenance advice Sedum roof.