Green ground covering for contractors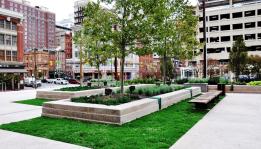 Creating or renovating outdoor space requires experience, knowledge and decisiveness. As contractor, you are in direct contact with municipalities, architects, institutions and businesses, each with their own requirements. You can rely on Sempergreen, to give you advice tailored to your needs about the best ground covering for your project and what's more, we can always deliver our products from stock. Together we can make your project a success!
How do I create direct-green ground cover?
The structure of direct-green ground cover will depend on the soil and the slope to which the ground cover will be applied. Read more about the most commonly used structures for green ground cover below.

What does green ground cover cost?
The price of ready-to-lay ground cover will depend on your project specifications. We are more than happy to give advice tailored to your needs and we can send you a quote without obligation.
Customized product for every project