Green roof for contractors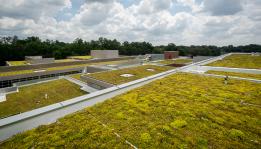 As contractor, you may be required to install an extensive green roof as part of your construction contract. A green roof is the top layer of the roofing. Various solutions are available, from lightweight to water-retaining. With Sempergreen you are always assured that we can deliver from stock. In addition, we can advise about your specific project. Together we can make your project a success!
What is the structure of a green roof?
The structure of a green roof will depend on the underlying roof specifications and the building's support structure. Read more about the most commonly used systems for green roofs below.


What does a green roof cost?
The price of an extensive green roof will depend on your project specifications. We are more than happy to give advice tailored to your needs and we can send you a quotation without obligation.
Stock always available
Sempergreen USA grows its own products in its own nurseries in the middle of the country. We maintain ample stocks of all our products. So we can almost always deliver immediately from stock. Within the USA, the delivery lead time is about one week depending on the project location.
Customized product for every project