Green roof system structures
Each roof is different. This is why the structure of a green roof will depend on the specific aspects of your roof. We have prepared a convenient overview of the most frequently used system structures for you. If you would like to receive product recommendations tailored to your needs, please contact us to receive the correct structure tailored to the specifications of your project.
System structures
Sponge-Roof 0-30°
Flat and shallow pitched roofs are ideal for a green roof. The system structure for a water-retaining purple roof consists of a drainage layer with filterfleece, a needled (not hard board) mineral wool that retains 90%+ of water by volume, a specific non-proprietary soil recipe, and a vegetation blanket.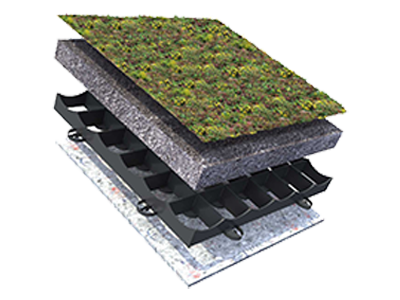 Steeply pitched green roof 30-40°
Sempergreen has the perfect solution for pitched roofs. The Sedum-mix blanket type T has plastic reinforcement top and bottom. This makes this vegetation blanket - in combination with the correct system structure - very suitable for (steeply) pitched applications.