Green ground covering for gardeners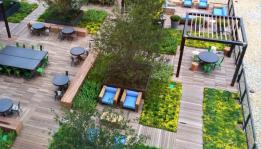 Instant green plant mats offer you as gardener the opportunity to finish a project quickly and efficiently. The soil is covered immediately for at least 85% with plants. This enables you to create a magnificent green result. Additionally, you also prevent erosion by using this on sloping surfaces. The Sempergreen Plant mat is the ideal solution for parks, embankments, roundabouts and other public spaces.
Available from stock all year round
Sempergreen grows its own products in its own nurseries. We maintain ample stocks of all our products, so we can almost always deliver immediately from stock, throughout the year, even in winter!

How should I lay plant mats?
Laying direct-green ground cover has never been easier! Using Sempergreen plant mats or Sedum blankets you can install mature ground cover for a public space within one day. Both flat and inclined areas of up to 60 degrees are suitable for the application of instant green ground cover.

How do I maintain plant mats?
The plants used in Sempergreen Plant mats are strong, mature and hardy. To ensure your plants stay healthy, we recommend fertilizing the ground cover annually in the spring. For specific maintenance advice for your particular project, you can always contact our Sales Support department.
Customized product for every project