Green ground covering for landscape architects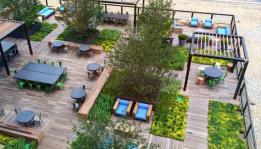 As a landscape architect, you know better than anyone how important outdoor greenery is. Greenery not only has an aesthetic function, the functional benefits are at least as important. Get to know the quality products grown by Sempergreen. Suitable for any landscape or garden, large or small.
How do I create direct-green ground cover?
The structure of instant-green ground cover will depend on the soil and the slope to which the ground cover will be applied. Read more about the most commonly used structures for green ground cover below.

Available from stock all year round
Sempergreen grows its own products in its own nurseries. We maintain ample stocks of all our products, so we can almost always deliver immediately from stock, throughout the year, even in winter!
Online product recommendations tailored to your needs
Sempergreen has developed a unique tool that you can use to get advice about your specific project on your screen immediately. The advice consists of a specifications text, technical drawing, 3D structure illustration and factsheet. The tool also offers you the option to compare different sets of advice. So you can get started with the correct structure for your project.
Customized product for every project