Standard Sedum-mix blanket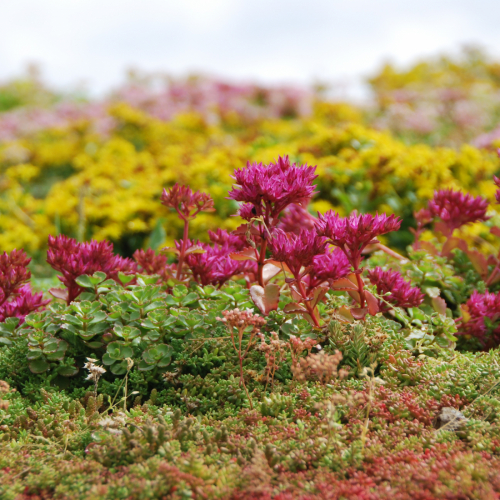 The Standard Sedum-mix blanket is becoming increasingly popular as ready-to-lay ground cover for roundabouts, central reservations and roof terraces. Low maintenance combined with easy installation guarantees success. The vegetation blankets always boast at least 85% coverage on delivery.

Which plants are used in a Standard Sedum-mix blanket?
The Standard Sedum-mix blanket contains 12 to 16 different types of Sedum. The plants grow in a mineral based substrate layer specially developed by Sempergreen on a biodegradable coconut fibre carrier. Sedum is a succulent plant that is well able to store water in its leaves and therefore grows perfectly under diverse weather conditions. Sempergreen vegetation blankets are produced in accordance with FLL guidelines and ANSI-SPRI compliant.
Installation and maintenance
The maximum gradient for the Standard Sedum-mix blanket is 31 degrees (7:12). Sedum is a low-maintenance vegetation that does not need to be mown. The use of dense vegetation mats, means that weed growth is limited. The minimum maintenance will depend on the system structure (fertilization one to three times a year and inspecting the mat for (carried by the wind) weeds and removing these).