Standard Sedum-Mix Blanket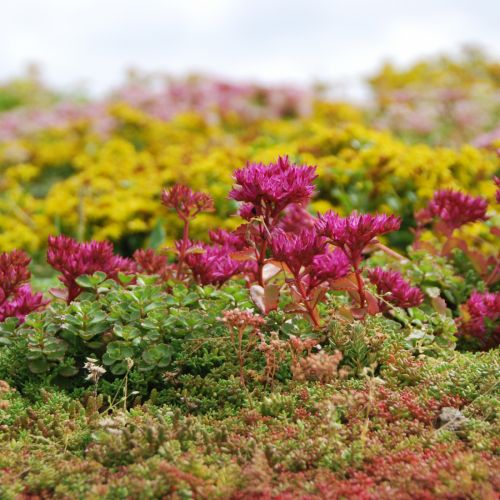 The Sedum-mix blanket is the most widely applied product for directly green extensive green roof system, also called Sedum roofs. On delivery our vegetation blankets always boasts at least 85% coverage. Sempergreen vegetation blankets are produced in accordance with FLL guidelines and ANSI-SPRI compliant.

Plants in the Standard Sedum-Mix Blanket
The Standard Sedum-mix blanket contains 12 to 16 varieties of succulents. The plants grow in a mineral based substrate layer developed by Sempergreen on a biodegradable coconut fibre carrier. Sedum is a succulent plant that is well able to store water in its leaves and therefore grows perfectly under diverse weather conditions.
Installation and Maintenance of a Green Roof with Standard Sedum-Mix Blanket
The maximum gradient for the Standard Sedum-mix blanket is up to 31 degrees (7:12). The minimum maintenance will depend on the system structure (fertilization one to three times a year).
Information and Project Advice
Contact us today for more information on Standard Sedum-mix blankets and a free quote for your green roof project.