The added value of a Biodiversity Package on a Sedum roof
Posted on Tuesday 23 March, 2021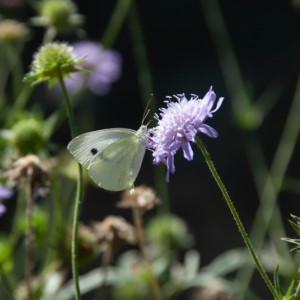 Biodiversity is in bad shape all over the world. At this point in time around 1 million animal and plant species are threatened with extinction. Many will die out within decades, more than ever before in human history. This will have a huge impact on all our lives. One of the solutions to improve biodiversity is the installation of green roofs in urban environments and intensively used agricultural areas.
The green roof: a favourable living environment
Green roofs are always better for the local biodiversity, compared to a grey roof. Especially within urban and agricultural areas, a green roof provides a favourable living environment for animals such as birds, butterflies and bees. Here they find food and/or reproduction opportunities that are otherwise not available in the immediate vicinity.
Sempergreen's biodiverse roofs
Sempergreen supplies green roofs with various types of plantings: Sedum roofs and biodiverse roofs. A biodiverse roof consists of a drainage layer, roof garden substrate and a vegetation blanket planted with wildflowers or host and nectar plants. The roof garden substrate in this green roof structure is 15 centimetres (6 inches) thick, so that caterpillars and other insects have sufficient space to pupate.
View system structure biodiverse roof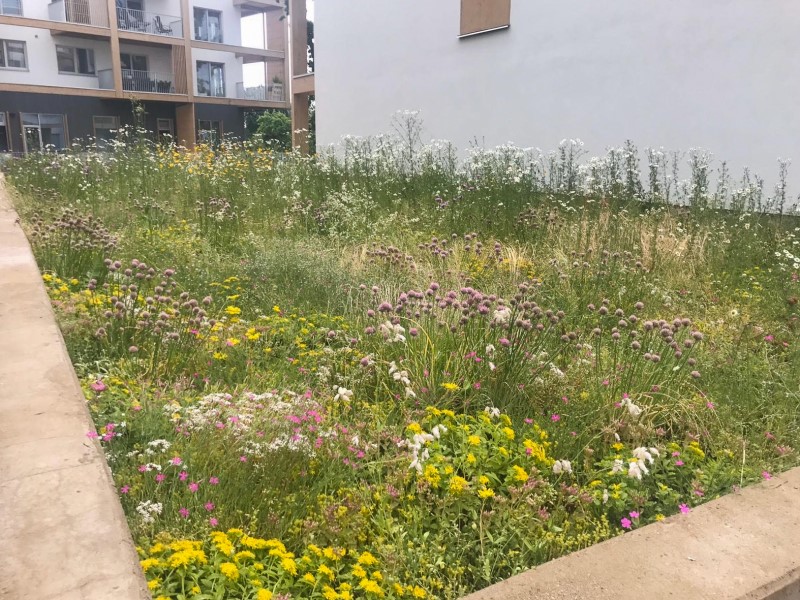 Biodiverse roof with host and nectar plants
Biodiversity on a Sedum roof
Because of their thicker substrate layer, biodiverse roofs are quite heavy (220-225 kg/m2 water-saturated) and not applicable on every roof. If your roof cannot support this weight and you would still like it to contribute to biodiversity, you can opt for a lightweight Sedum roof combined with a Sempergreen Biodiversity Package. The compact size of the Biodiversity Package doesn't have a negative effect on the construction and adds great value to the living environment of birds, bees, butterflies and other insects.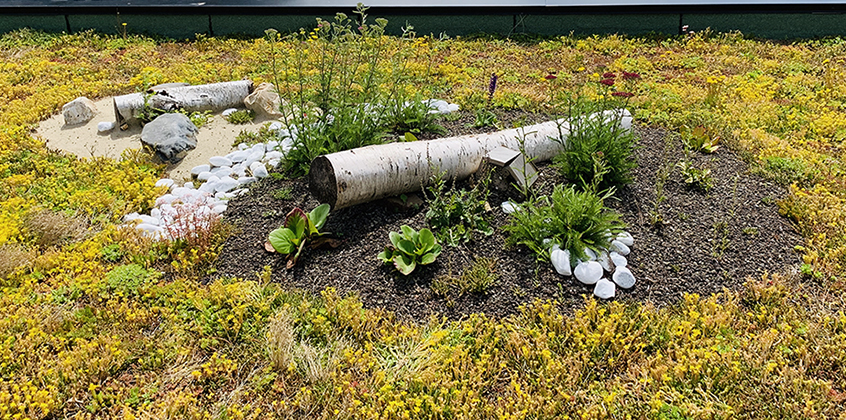 Biodiversity Package on a Sedum roof
Importance of green roofs for biodiversity
In 2015 Sempergreen conducted research into biodiversity on green roofs in cooperation with the Dutch Butterfly Conservation. This showed that Sempergreen's Sedum roofs can make an important contribution to biodiversity: they are a source of nectar for insects in the months from May to September. On the other hand, Sedum requires only a thin layer of roof garden substrate or even (in the case of a lightweight green roof) a layer of mineral wool. As a result, insects have no opportunity to pupate in the substrate layer. However, with the addition of a biodiversity package, it is possible for the entire life cycle of butterflies and other insects to take place on a Sedum roof.
Read more about biodiversity and green roofs in the white paper 'Building for biodiversity'.
Increase the ecological value of a Sedum roof with a Biodiversity Package
The Sempergreen Biodiversity Package has been compiled in cooperation with the Dutch Butterfly Conservation. With the addition of a Biodiversity Package, a Sedum roof not only provides nectar but also nesting opportunities, shelter and food for bees, butterflies and other insects.
The added value of a Sempergreen Biodiversity Package on a Sedum roof
The Biodiversity Package includes sand in which bees can dig burrows, a thick layer of substrate for pupation, oak tree trunks and an insect hotel in which insects can lay their eggs or hibernate. In addition, the package also contains host plants so that butterflies can lay their eggs on the green roof, and caterpillars can subsequently survive there. In short, the ideal package for promoting biodiversity on a Sedum roof.
TIP: The Sempergreen Biodiversity Package can also be added to an existing Sedum roof.
Would you like to know more?
You're interested in a sustainable solution to increase the biodiversity on your roof, but you need more information? We're happy to advise you on the application that best suits your project.