Green roof for developers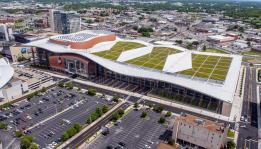 There are many reasons you as developer may want to opt for a green roof. An extensive roof garden extends the life span of your roof and increases the economic value of your property. If you opt for a water buffering green roof, then you reduce peak loads on the sewage network in the event of heavy rainfall, which can prevent flooding in your street. Furthermore, a vegetative roof will help regulate sound and heat in the building.
What is the structure of a green roof?
The structure of a green roof will depend on the underlying roof specifications and the building's support structure. Read more about the most commonly used systems for green roofs below.