Green roof system structures
Each roof is different. This is why the structure of a green roof will depend on the specific aspects of your roof. We have prepared a convenient overview of the most frequently used system structures for you. If you would like to receive product recommendations tailored to your needs, please visit our online advice centre where you will receive the correct structure tailored to the specifications of your project.
System structures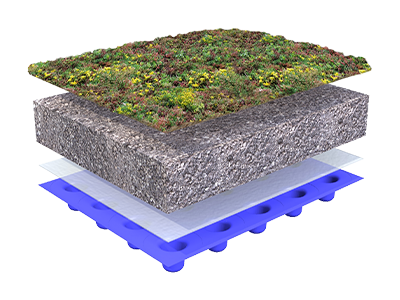 Flat green roof 0-5°
Flat roofs are ideal as green roof. The system structure for a flat, water-retaining green roof consists of a drainage layer with filterfleece, extensive roof garden substrate, and a vegetation blanket.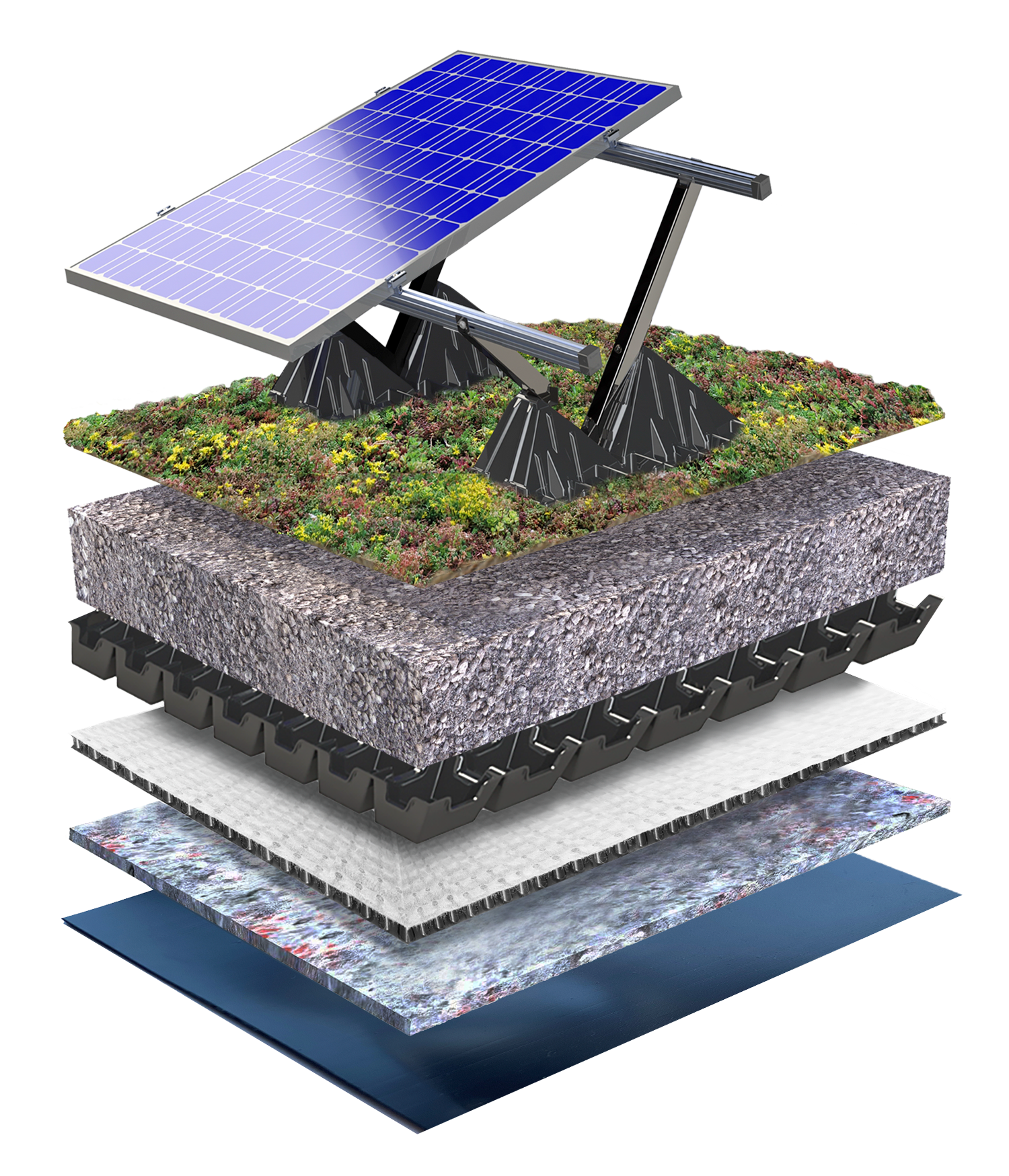 Solar Sedum Roof 0-5°
The Solar Sedum Roof is a green roof solution including mounting systems for solar panels on flat roofs. This is a ballasted solar system for a safe and fast installation of the PV panels. The Sedum roof underneath the solar panels provides the necessary weight to secure the solar system, without the need to penetrate the roof surface. Additionally, the green roof can boost the energy yield of PV panels with 6 to 10%!
Solar Biodiverse Roof 0-5°
This green roof system is ideal for projects in which not only renewable energy, but also biodiversity is an important factor. It offers nutrition, nesting space and shelter to insects and birds. The Solar Biodiverse Roof is especially suited to urban areas, to give a boost to local flora & fauna.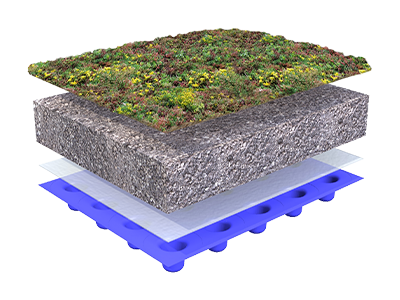 Shallow pitched green roof 5-25°
The structure of a shallow pitched green roof differs slightly from the structure of a flat roof. Because water runs off the roof more quickly, a thicker substrate layer is needed. The substrate gives the right amount of nutrients to the plants so your green roof stays nice and green.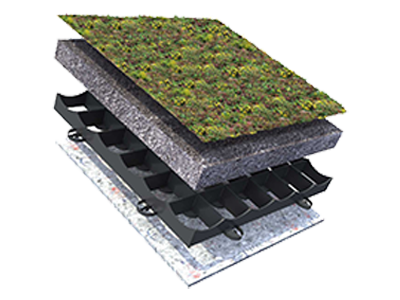 Steeply pitched green roof 25-45°
Sempergreen has the perfect solution for pitched roofs. The Sedum-mix blanket type T has plastic reinforcement top and bottom. This makes this vegetation blanket - in combination with the correct system structure - very suitable for (steeply) pitched applications.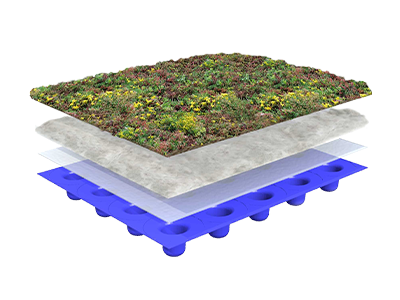 Lightweight green roof 0-15°
Sometimes a flat roof support structure requires a lightweight green roof. Our special lightweight structure for flat roofs transforms your grey roof, with a pitch of 0 to 15 degrees, into a sustainable green roof almost instantly.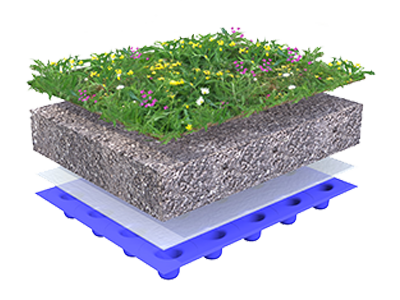 Biodiverse green roof 0-15°
When construction is underway, the ecosystem is disturbed. With a biodiverse roof you can contribute to maintaining biodiversity in the urban environment. Join Sempergreen and do your part to counter bee and butterfly mortality, opt for a green roof with Bees & Butterflies blanket.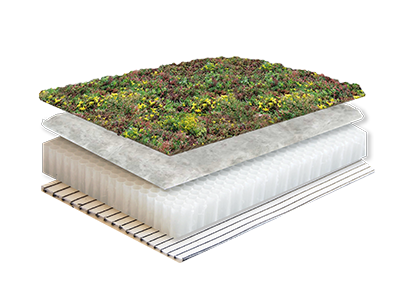 Detention roof 0-5°
Our climate is changing. This leads to an increase in flooding due to heavy rainfall. The unique system structure of the Detention Roof ensures that rainwater is temporarily detained and runoff is delayed. Even when fully saturated with water, the Detention Roof is able to completely detain stormwater and to delay flow rates.