Green roof for government organizations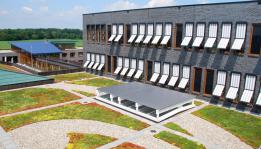 Governments are faced with many societal challenges. Climate change, urbanisation, noise nuisance and air quality are topical issues that require a sound solution. Green roofs can be an answer to this problem. On this page you can read about what green roofs can mean for urban areas.
What is the structure of a green roof?
The structure of a green roof will depend on the underlying roof specifications and the building's support structure. Read more about the most commonly used systems for green roofs below.

Municipal subsidy a green roof
More and more European municipalities offer a subsidy on the installation of a green roof. Why? Because this investment in sustainable green will yield many benefits in the future for quality of life and the municipality's financial burden. Because a green roof buffers rainwater and releases it to the sewage system later, the peak load during heavy downpours is reduced. In these times of climate change, this is a very topical issue. In addition, a green roof has positive effect on air quality and reduces the ambient temperature in the area. In cities in particular, where it can become very hot in the summer, a green roof contributes to a more pleasant climate in the city.

Furthermore, it promotes biodiversity because green roofs offer a haven for butterflies, bees, insects and birds. And it's also good to know that people are happier in a green environment. People are not only healthier, their feeling of insecurity diminishes.