7 of the best sustainable city plans in the world
Posted on Tuesday 05 October, 2021

The latest IPCC-report on climate change shows us how important it is to make crucial changes in climate policy before it is too late. Governments are telling us how dire the situation is and have pledged net zero emissions by 2050. Some city leaders though think their governments are moving too slowly and are making their own, more ambitious climate plans. Other cities have been making changes for some years now and are inspiring other cities to do the same. In this article, we are showing you some effective and inspiring examples of green measures these cities have chosen to implement and what tips and inspiration your city may be able to take from them.
The impact of cities on the climate crisis
"We, the cities, cannot afford to wait and see whether [national] proposals are ambitious enough. The future of the fight against climate change is being played out in our streets and squares. We are where most of the population lives, the people most responsible for greenhouse gas emissions and the main focus of innovation. If we want things to change, we have to start by changing ourselves. That will only be possible if we all take joint responsibility: citizens, companies, associations and authorities." - Ada Colau Ballano, Mayor of Barcelona
And she is right. Cities make up 3% of the earth's surface area, but inhabit more than 50% of the earth's population. In addition, 60-80% of the global energy consumption and 75% of the world's carbon emissions come from cities, making them the places where climate plans and green measures have the most impact. And, as reinventing the wheel would be a waste of time, it would be more efficient if cities could learn from each other's climate plans and see what measures work well, which don't, and to get new ideas for local climate action.
Sharing ideas and insights between cities
A good example are the green bus shelters in Utrecht, the Netherlands. This city has installed green roofs on 300 of its bus shelters in the last years and has been an inspiration for cities such as Leipzig, Frankfurt and Munich. In the meantime Warsaw is nearing the completion of 20 bird friendly bus stops carrying Sedum roofs and Amsterdam has been experimenting with its own version of green shelters. We hope that more cities will inspire each other and together create a greener, more inhabitable world. Below, we share 7 inspiring examples of sustainable urban planning.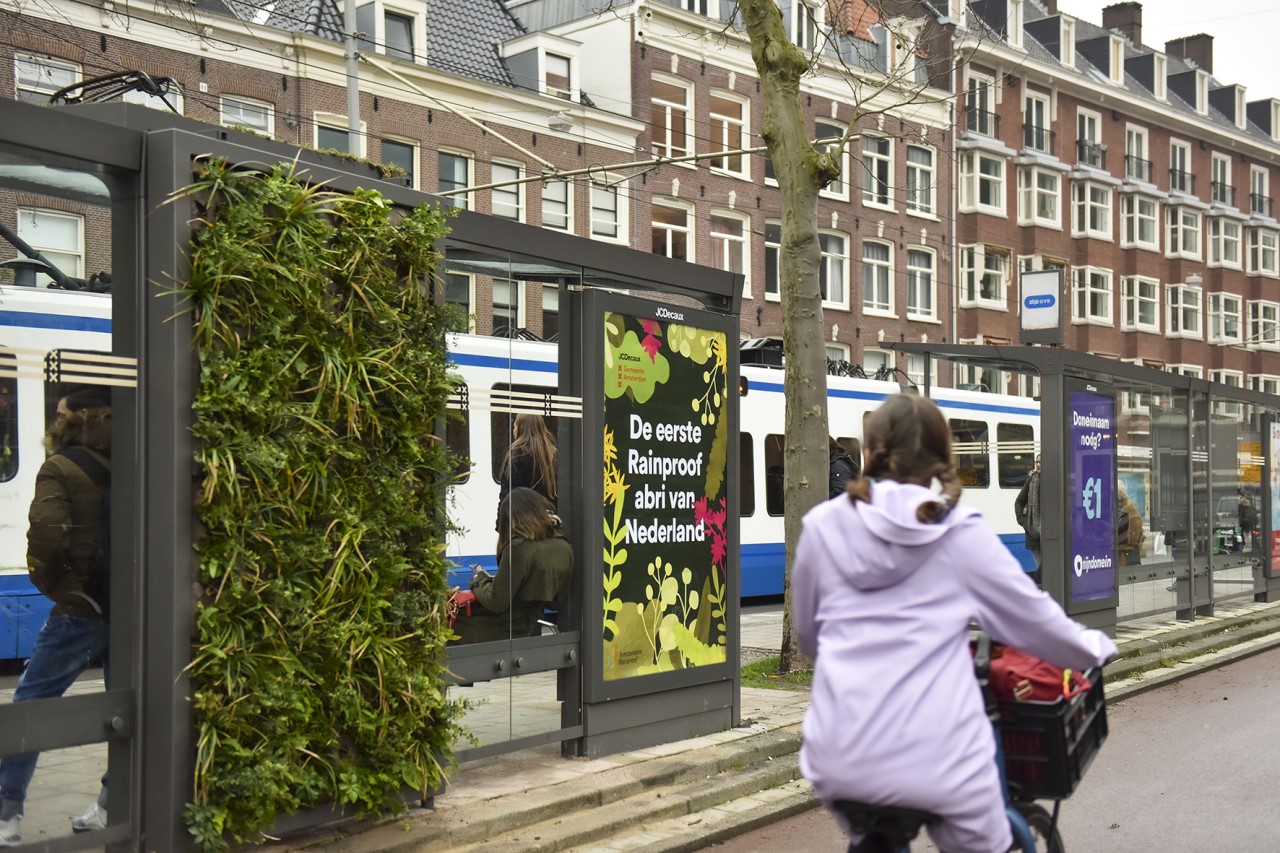 Self-watering green tram shelter with rainwater storage system in Amsterdam, the Netherlands
1. Washington DC – sustainable food for the residents
Washington is one of the most sustainable cities of the USA. It was the first city in the world to receive a platinum LEED certification for cities. For example, the Department of Energy & Environment provides financial incentives through the RiverSmart program for property owners who install green roofs, rain gardens and other green infrastructure to help reduce stormwater runoff.
But another important sustainable aspect the city is working on, is the food. As one of its goals, DC wants to make healthy, fresh food available and affordable for all District residents, so that it helps improve their health and well-being. Because of this, more and more residents in the area get their food from urban farms and community gardens, making healthy and fresh food more readily available. Not only individual residents but also restaurants and hotels think that sustainability is an important aspect to their cuisine, and acquire their mostly ecological ingredients from local farms. This way DC residents don't only get fed, but can also enjoy healthy, locally sourced food.
2. Barcelona – less traffic in superblocks
Even before Barcelona's inclusive Climate Plan 2018-2030 the Spanish city took serious steps for ambitious changes through the Citizen Commitment to Sustainability collective document, which was signed by more than 800 organizations in 2012. Barcelona worked with 141 of those signatories to define the Commitment to the Climate, a city roadmap on climate change, consisting of collaborative projects for 2015-2017. One of the results is the Superblocks Project that started in 2016.
The idea of superblocks (similar to 15-minute cities) is quite simple: you take nine housing blocks and turn them in one big block by keeping out car traffic above 6 miles an hour and reclaiming the space for pedestrians and cyclists. This way the former streets are turned into communal spaces the local residents can fully enjoy. In addition to that benefit, superblocks reduce air pollution, the urban heat island effect and improve the biodiversity in the area. At the moment of writing this article there are 6 finished superblocks, but Barcelona wants to eventually realize more than 500 of them.
3. Bristol – winning the race to zero
Where most of the countries and cities have set net-zero emissions for 2050, Bristol (UK) takes it further, setting them for 2030, together with several other ambitious targets. In 2018 the city council declared a climate emergency and immediately started taking proper action. Together with Bristol Energy the city has organized the City Leap project, which aims to deliver a net-zero carbon energy system by the end of this decade. The city also wants to take all possible steps to divest its city assets from fossil fuel companies. Having also declared an ecological emergency, Bristol wants to double the local wildlife by 2030.
Our commitment to this will extend beyond parks and green spaces. We need our buildings, streets and open spaces to support wildlife and create a more nature-friendly city, and we need new developments to do the same." – Marvin Rees, Mayor of Bristol
And, stunningly, in 2018/2019 Bristol reduced 77% of its carbon emissions [pdf] compared to 2005 with its activities, making net-zero by 2030 seem more realistic by the minute.
4. Dubai – The Sustainable City
Next to making existing cities more sustainable, whole eco cities, districts or villages are built. One of these eco-districts is The Sustainable City in Dubai, United Arab Emirates. The 46-hectare sustainable urban development project was completed in 2015 and is comprised of 500 villa's and 89 apartments. The villas are not cheap, but the inhabitants save a lot on energy and water, while gaining a lot of advantages that The Sustainable City is providing.
Inspired by other green projects from around the world The Sustainable City is built with environmental, economic and social sustainability in mind. The car park and buildings sport solar panels, which provide 60% of the required energy. The waste system makes sure that 100% of the waste and water is recycled. The area is a car-free zone, where walking and biking are encouraged. Through the middle of the district runs a park filled with 11 biodome greenhouses with a total capacity of over over 32,000 square feet for urban farming. One of the ways the social aspect is fulfilled, is with the building of Sanad Village, which is especially designed for people on the autism spectrum and their families.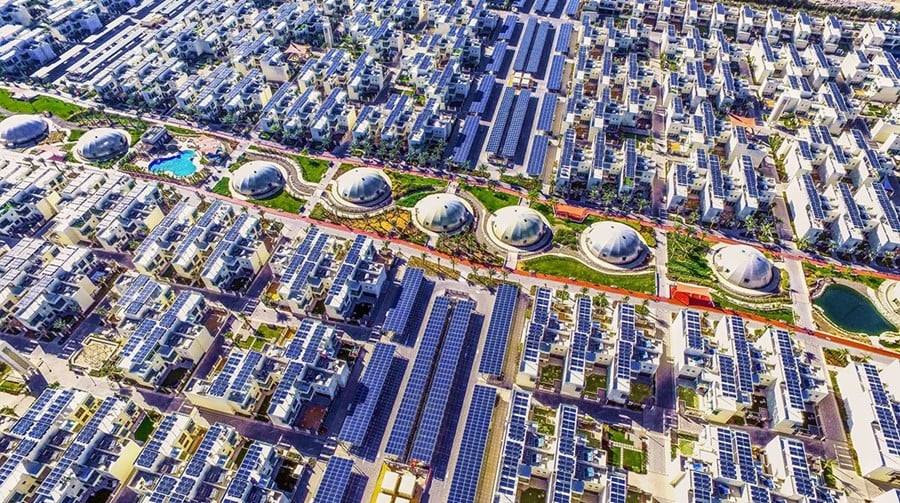 Helicopter view of The Sustainable City in Dubai – source
5. Hamburg – flood prevention
Hamburg (Germany) is working hard to become a sustainable, climate-adaptive city. One of the main green projects for a while now is flood prevention. To counter this particular effect of climate change the city has adopted the RainInfraStructure Adaptation strategy (RISA). With this strategy, people from the local administration work closely together with businesses and scientists to come up with ways to provide sustainable and futureproof rainwater management.
Do you wish to learn more about flood protection measures that your city can take? (Re)watch our webinar Innovation for future-proof cities:

Effectively, the city needs to turn into a sponge, making sure that huge amounts of rainwater don't immediately disappear into the sewer system, but are held back for a while and eventually let go in the form of evaporation or controlled release. One of the ways Hamburg is making this happen is through its Green Roof Strategy. Green roofs act as water buffers, by absorbing rainwater and slowing its release into the sewage system. Since the implementation of the strategy, the city has already realized more than 140 hectare (346 acres) of green roofs and is going for at the minimum 100 more (247 acres). Until at least 2025, the city is subsidizing the installation of green roofs, giving owners up to 100,000 Euros (approx. 116,000 US dollars) for the greening of their roofs, making sure the incentive stays alive.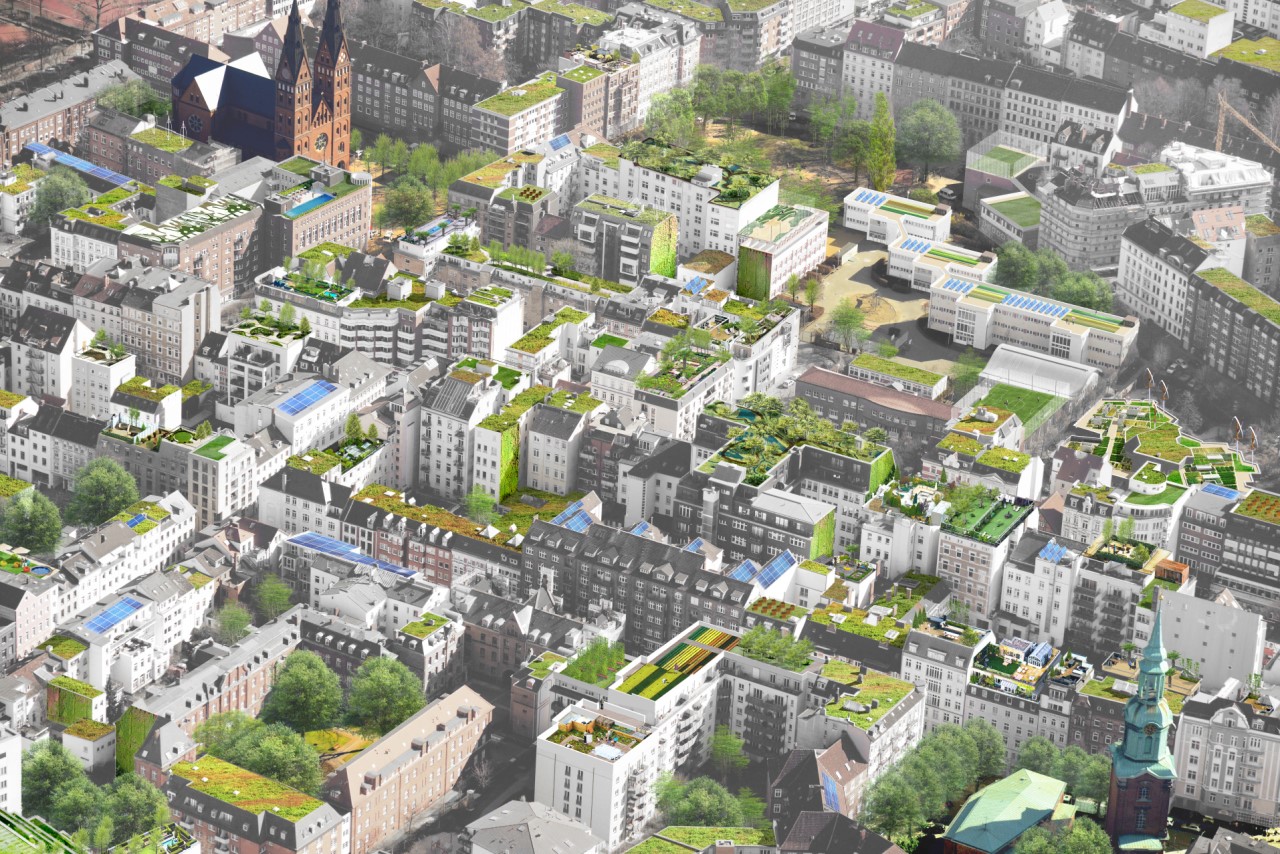 Artist impression of the greening of Hamburg by BLUE TH. Photo: Matthias Friedel – source
6. Medellín – better air quality with green corridors
After getting rid of its bad name as one of the most dangerous cities in the world through social improvements, Medellín (Colombia) now strives to become an eco-city. The city is already using 69 electric busses and has an established bike lane network. Another impressive sustainable measure Medellín has taken, are the 30 green corridors that are installed throughout the city.
For this project, Medellín targeted the most polluted streets and areas. Because the more polluted an area, the bigger the impact on the environment will be after the implementation of green measures. The corridors already produced positive effects since its beginning in 2016. The city has become more liveable. The urban heat island effect in the city has been reduced by 2°C (3.6°F) and just one corridor is estimated to absorb 160,787 kg (176 tons) of CO2 per year for the initial phase of the plants' lives. And finally, to install and maintain the green corridors, 75 locals from more disadvantaged backgrounds were trained to become city gardeners and planting technicians, giving them full-time jobs.
7. Melbourne – combating the Urban Heat Island effect in Melbourne
According to Plan Melbourne 2017-2050, Melbourne (Australia) wants to become a sustainable and resilient city. One of the most important project in this plan is the countering of the Urban Heat Island effect by greening urban areas such as buildings, transport corridors and creating more open spaces for forestation. This will not only make the city cooler, but also help retain more water, which is helpful during droughts.
To achieve this, Melbourne is planning to create five new regional parks and 4 new conservation reserves in the Metropolitan urban area, upping the total number from 4 to 13. The open spaces need to be fairly distributed and meet the needs of all members of the community. In addition, the local government is looking into greening via landscaping, green roofs and green walls, to increase the percentage of permeable site areas in developments. People who want to start a greening project, can apply for a greening grant through Melbourne's Urban Forest Fund.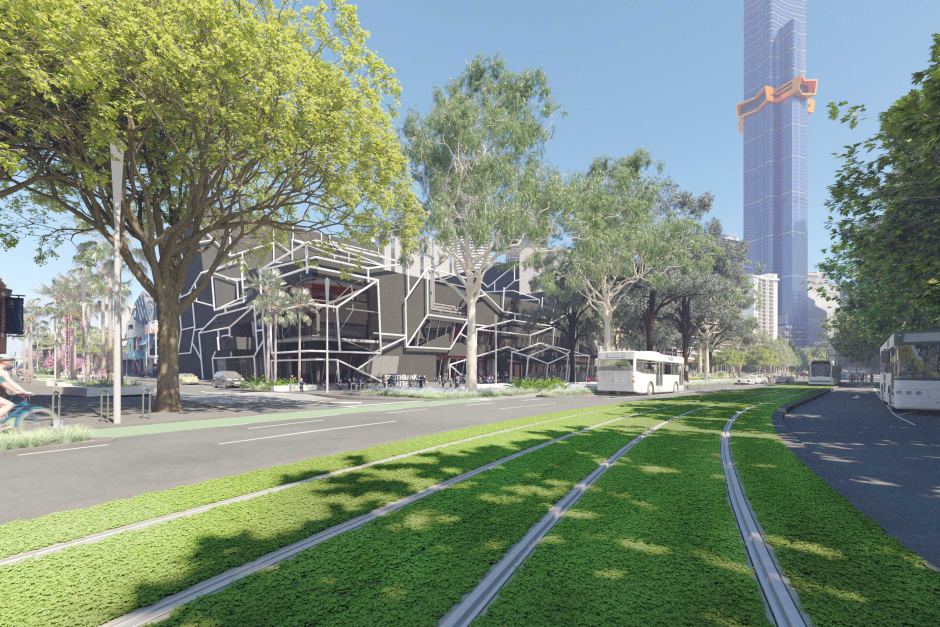 Artist's impression of green space along Southbank Boulevard Melbourne – source: Melbourne City Council
Inspiration for future green cities
As you can see, there are a lot of different ways in which you can make your city sustainable and green. Urban greening by adding green roofs, living walls and green spaces can make a huge impact on the city. It counters a lot of negative effects of climate change – such as urban heating and flooding – purifies the air, and improves the health and well-being of your residents. To stimulate green infrastructure and nature-inclusive buildings, point systems could be a good way to encourage architects and developers to start designing with nature in mind.
These measures can go hand in hand with other effective ways of sustainable urban planning, such as introducing superblocks, green transport and car-free zones, turning your back on fossil fuels and recycling 100% of your city's waste and water. These are just a handful of future green cities from across the world that had wonderful ideas which have been proven effective or are being tested as we speak. Just imagine what would happen if you combine these solutions and many other green ideas into the sustainability plan for your city. Maybe then your city will become one of the world's greenest cities.
More information
Do you want to make your city more climate resilient with the help of green roofs or living walls? Contact us for advice from our experts.