Traditional versus lightweight Sedum roof
Posted on Wednesday 11 August, 2021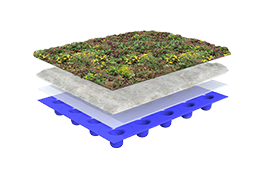 You wish to install an eco-roof on your project, but you don't know what kind of green roof system to use? In this article we explain the difference between a traditional and a lightweight Sedum roof, and what you should consider before purchasing. Finally, we show you how to install these living roof systems simply and easily.
Traditional Green roof construction
A traditional (extensive) green roof system consists of 3 construction layers: a drainage layer, a substrate layer and a Sedum-mix blanket. The drainage layer collects rainwater. It comes with a filter fleece to prevent substrate from ending up in the rainwater drain. The roof garden substrate (a special substrate for green roofs), consisting of a mixture of lava, pumice and compost, acts as a nutrient-rich growth medium in which the green roof plants grow. The substrate layer has a permeable effect and is produced in accordance with FFL guidelines.
Finally, there is the Sempergreen Sedum-mix blanket. This vegetation blanket has been pre-cultivated for at least 95% at our nursery and contains 6 to 8 different species of Sedum. This hardy plant makes a Sedum roof more durable than a grass roof, because it can survive long droughts and extreme weather conditions and doesn't need to be mown. The traditional Sedum roof can be applied at a roof pitch of 0 to 25 degrees.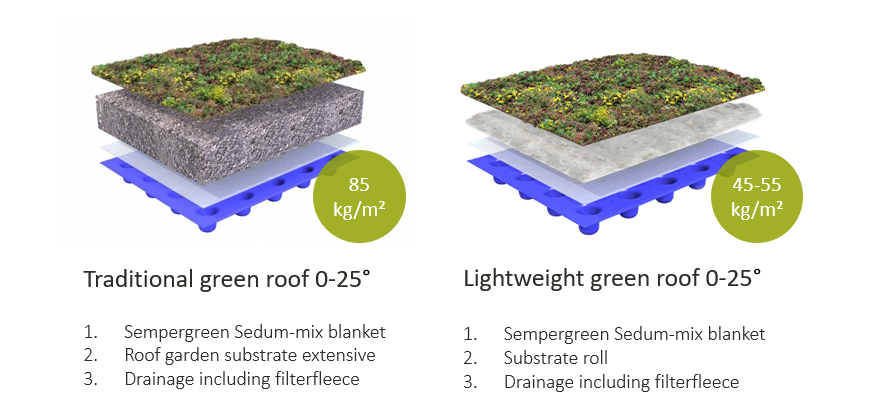 Traditional and lightweight Sedum roof system structures
How to install a traditional Sedum roof
Lightweight Sedum roof construction
The lightweight Sedum roof system also consists of 3 layers and, just as the traditional green roof, contains a drainage layer with filter fleece. In contrast to the traditional Sedum roof, this green roof system includes a substrate roll made of mineral wool instead of roof garden substrate. Sedum plants can take root well in this lightweight layer. In addition, the mineral wool has an extremely good capillary effect; it soaks up all the rainwater like a sponge and distributes it evenly over the entire roof. This combination of materials makes this green roof system a lot lighter, which means it can be placed on roof structures with relatively little load-bearing capacity. It is therefore ideal for the small roofs of sheds, garages and carports, for example, or large industrial roofs.
The maximum saturated weight of this lightweight green roof is 55 kg/m² and it can be placed on roofs between 0 and 25 degrees. The substrate roll also makes it possible to apply the lightweight green roof system on curved roofs. When this vegetation roof is installed, at least 95% of the Sedum-mix blanket is covered with plants and consists of a mix of 6 to 8 different Sedum species.
How to install a lightweight green roof system
Lightweight Sedum tray
For smaller roofs, ready-made Sedum trays, such as the Click 'n go Sedum Tray, are also a good lightweight option. This practical green roof system can be installed on the roof in no time at all.

Watch the installation video here

Text continues below image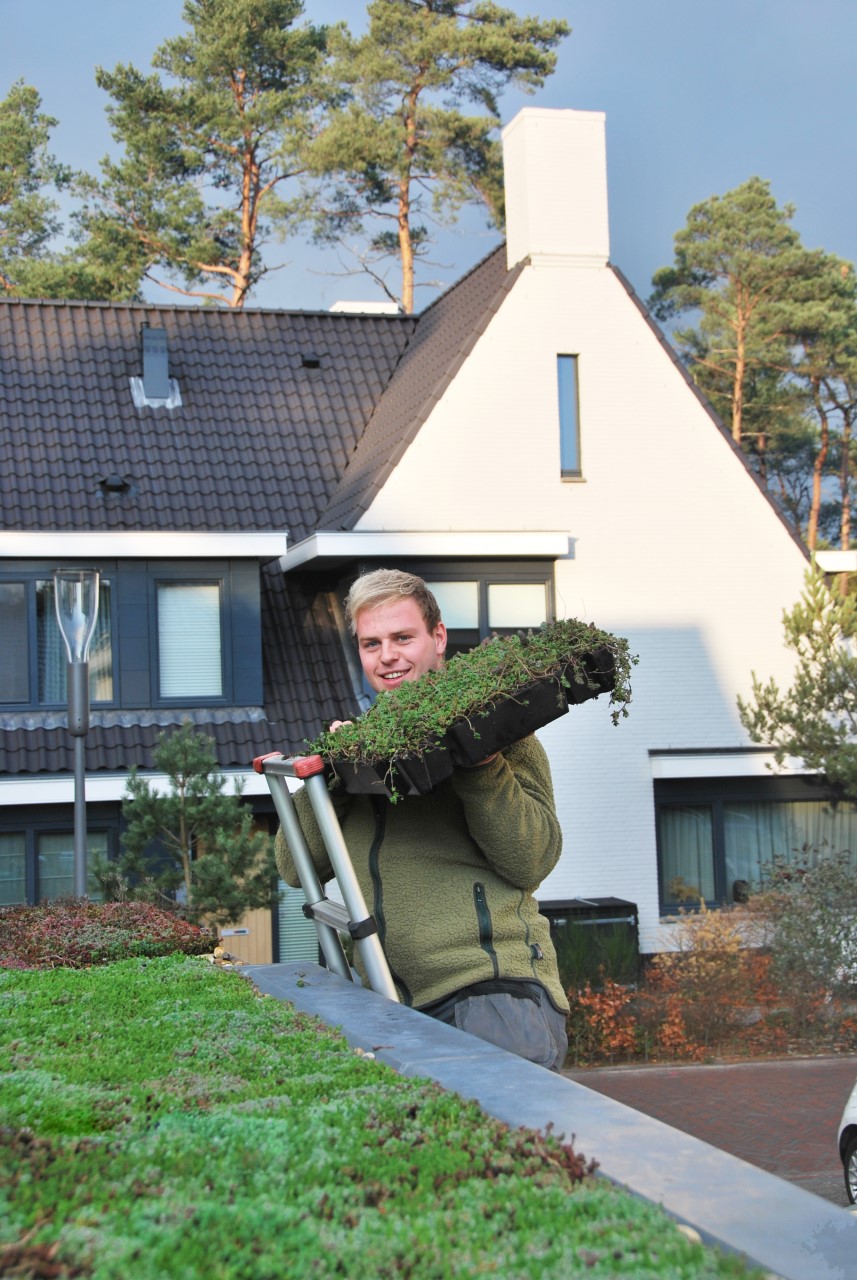 The installation of a green roof with Sedum trays
Biodiversity boost
Sempergreen's Sedum roofs make a functional contribution to biodiversity by providing a safe nesting place for birds and nectar plants for insects. Would you like to increase local biodiversity even further with your project? Then you can install a Sempergreen Biodiversity Package on both the traditional and the lightweight green roof system. The Biodiversity Package provides both food and nesting opportunities, enabling the entire life cycle of insects and birds to take place on the green roof.
Checklist purchase green roof
Are you planning to install a green roof? This short checklist shows what you need to consider when choosing and installing your green roof.
1. What is the load-bearing capacity of the roof?
The type of green roof you can install depends on how much weight the roof can support.
2. What is the pitch of the roof?
The slope of the roof decides which kind of green roof can be installed.
3. How old is the roof covering and is it waterproof?
If the roof covering needs to be renewed or is no longer waterproof, we recommend that you replace it before installing the green roof. Did you know that the roof covering lasts twice as long if a green roof is installed on it?
4. Is the roof covering root-resistant?
If it is not root-resistant, we recommend that you install root barrier foil before you start with the installation of the green roof.
5. Are there any subsidy schemes available from the local government, municipality or water board?
More and more regions, municipalities and water boards offer subsidy schemes for installing a vegetation roof. Perhaps you or your client qualify for this.
6. Can I make use of the fiscal advantages for entrepreneurs?
In a growing number of countries entrepreneurs and/or housing corporations are eligible for tax benefits when investing in vegetation roofs.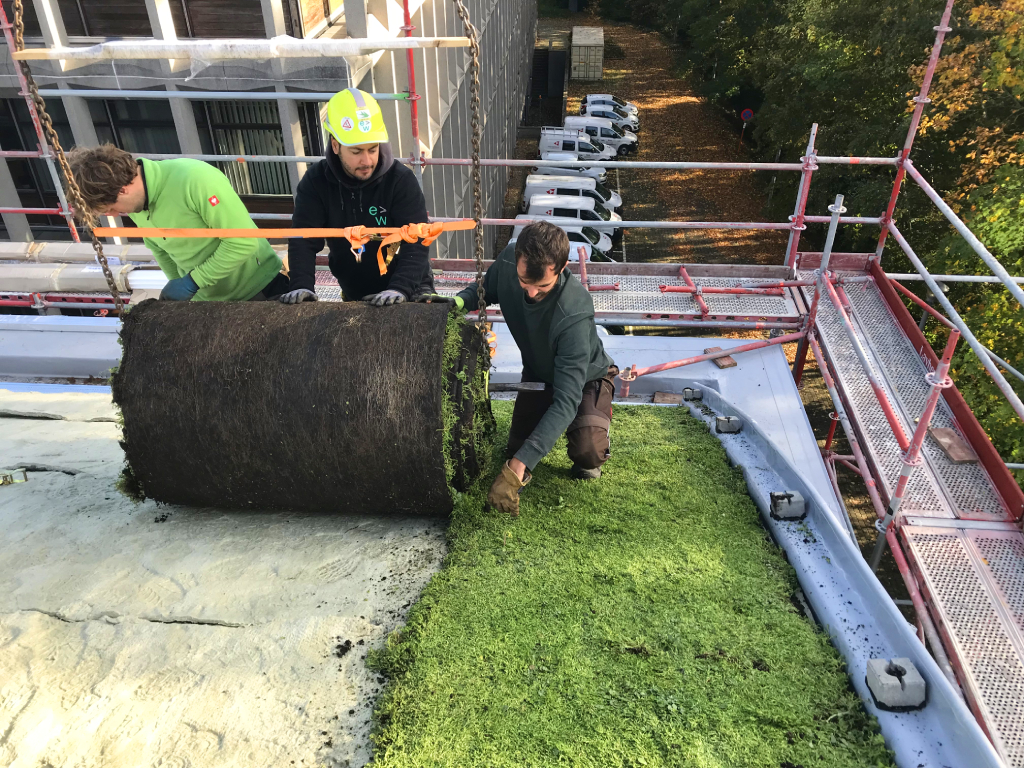 Installation of a lightweight green roof system on a curved roof
Green roof maintenance
Living roofs are natural products , so unlike grey roofs, they do require a little more attention. Yet the maintenance of a Sedum roof is minimal. It generally consists of a minimum of two roof inspections per year and two fertilisation periods. Read more about Sedum roof maintenance here.
In addition to Sedum roofs, Sempergreen also provides biodiverse roof gardens with other types of plants, such as wildflowers, herbs and host plants.
Tailor-made advice
The exact composition, structure and cost of a green roof depends on the roof structure of your project. Our experts are ready to advise you on the right green roof system and you can always contact us for a quote. No strings attached!